The Results Are In: Officer 'Sully' to Report For Duty Later This Year
May 4, 2020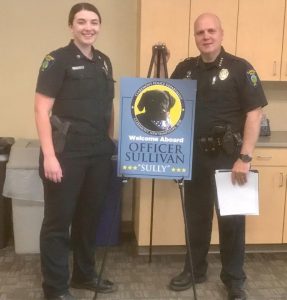 CLAREMONT — A new dog is joining the Claremont Police Department, but residents hoping to name the canine in homage to the 1986 movie Top Gun came up short.
The Claremont Police Department announced Friday afternoon that the chosen name for the department's new police dog will be Sully, short for Officer Sullivan. Sully, a six-month-old labrador-mix, will serve in the department as a public relations and emotional support dog. The dog will participate in investigations as a comfort-provider to traumatized crime-victims and make frequent appearances at public events.
Chief Mark Chase said that Sully's role will be completely different from that of the department's currently-active dog Maverick. Maverick, a three-year-old Belgian Malinois, is a search-and-rescue dog trained to locate hidden drugs, missing persons and fugitives.
Sully, on the other hand, "is a warm and cuddly dog, for people needing comfort or an icebreaker" when meeting with officers, Chase explained.
Sully's role will have many public-relations components as well.
"He is definitely going to be part of the community and have a lot of public interaction," Chase said.
For example, the department will likely bring Sully to school-hosted events to positively engage the interest and attention of children.
"If someone listens to us more if we have a dog next to us, all the better," Chase said.
Additionally, the Claremont Police Department felt that the community ought to choose the new dog's name.
After whittling the list of submissions to the three that appeared most popular, the department launched an online poll last week for residents to choose between the three finalists: Goose, Sarge and Sully.
At the closing of polls on Friday at 8 a.m., the two top choices — Sully and Goose — were deadlocked at 605 votes apiece.
The police decided to flip a coin, in a best-of-three tosses.
"It went to a third toss," Chase said on a live-stream announcement at the Claremont Savings Bank Community Center. "And we couldn't make that up."
Proponents for Goose hoped to pair it with Maverick to reference the main characters in Tony Scott's hit 1986 action movie "Top Gun," about a cocky naval aviator named Lt. Pete "Maverick" Mitchell (played by Tom Cruise) and flight partner Nick "Goose" Bradshaw (played by Anthony Edwards).
Chase said that the officers, regrettably, didn't document the coin-toss. But he assured The Eagle Times that the outcome of the coin toss was not influenced.
"I was hoping for Goose," Chase said. "So if it was fixed, it would have been Goose."
Sully, whose name is a nod to John Sullivan, an American Revolution war hero and former New Hampshire governor, as well as the county the city is located within, will be handled primarily by Claremont Detective Margaret Barry and School Resource Officer Krystal Simonds. The dog will live with Barry when off-duty.
Barry said she will meet Sully for the first time on Wednesday, when she visits the pup at Hero Pups, a non-profit rescue dog program in Stratham, N.H.
Hero Pups is a volunteer-run organization that acquires and trains rescue puppies to be support-dogs for veterans and first responders dealing with trauma (PTSD), anxiety and service-related issues. Each year, Hero Pups awards three to four police departments with a support-dog for the community.
"We cannot praise them enough," Chase said about Hero Pups. "They are a great organization."
The Claremont Police Department pays Hero Pups for training and reimbursement for Sully's living expenses to date. Chase said the department is funding the training and reimbursement costs entirely with donations. Once Sully becomes part of the Claremont Department, part of the department's annual budget will cover Sully's care, such as food and veterinary needs.
Barry said that she will participate in a series of training sessions with Sully prior to his joining the department. Training for support-dogs includes teaching the pup comforting techniques and acclimating the animal to being around crowds.
In addition to live-streaming the name reveal, the Claremont Police Department held a live K9 demonstration with Maverick and his handler, Sgt. Tyler Petrin. Petrin had Maverick demonstrate how he follows verbal commands, finds hidden drug samples and attacks on command — with assistance of Officer Christopher Allen, wearing a protective sleeve.
The stream, which had 130 live viewers, is available for viewing on the Claremont Police Department's Facebook page.
Chase said the purpose for the K9 demonstration was to help families take their minds off the events relating to the COVID-19 pandemic and the current stay-at-home order.