Therapy dog joins ranks
March 31, 2020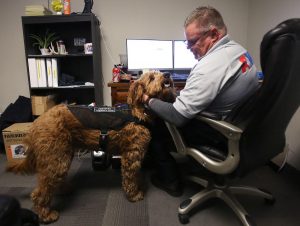 Unlike her colleagues at American Medical Response's local headquarters in Woodway, Liberty has to make sure her favorite toys are in tow when she heads to work each morning.
The 15-month-old goldendoodle officially joined the local emergency medical services provider last month as a certified therapy dog.
"She is very calm, very caring and if you are sitting back in your chair she would get up in your lap," AMR operations supervisor Joby Berkley said. "She is great therapy for the boss, because when you are having a bad day, you can just sit back and talk to the dog." The fluffy new addition to the team is meant to provide a measure of stress relief for first responders. "She's been here since she was 6 months old, coming every day as that is a part of their training, exposing them to everything that goes on here every day and beginning to learn the emotions and feels of people that work here. … As a certified therapy dog, she is able to recognize when people need support, therapy and even cuddles after a hard or emotional day," AMR operations manager Heather Schmidt said. Liberty, a 78-pound cross between a golden retriever and a poodle, is one 10 certified dogs, all crossbreed dogs, working with AMR first responders through AMR parent company Global Medical Response. Fourteen more dogs are in training, Schmidt said.
"Most of them are godlendoodles. We have some labradoodles and we have one sheepadoodle," Schmidt said. "They are all a hypoallergenic breed to reduce people who are allergic to dogs."
Liberty walked around AMR's local headquarters this week, sporting her therapy dog vest and visiting crews coming in and out of the office.
Although she has been known to steal food from crews on break, having a therapy dog is a great option for first responders often faced with demanding duties during 12-hour shifts, Berkley said.
"I have said a few things to the dog, I'm not going to lie," Berkley said with a laugh. "When the crew is on a tough call, a prolonged call or a call involving a pediatric (patient), we've had people request the dog so it's been a real positive sign that it is helping."