Therapy Dog Virtually Supports Neglected Kids
April 6, 2020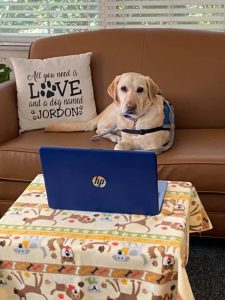 Therapy dogs are essential for helping people feel calm and safe. However, during the COVID-19 pandemic, therapy dogs are no longer able to meet people face-to-face. While it might seem difficult for them to keep working under those circumstances, some therapy dogs now work from home.
Jordon the 5-year-old Lab is one of the many therapy dogs that continues to work virtually. She usually goes to the Kids House in Seminole County, Florida, where she helps abused and neglected children. She knows that those kids still need her during this time of crisis.
What is Jordon's Role?
Many kids love dogs more than anything else. Because of this, a therapy dog can often provide them more comfort than a human therapist can. Jordon shows the kids love and affection, making them feel more comfortable simply by petting her and being near her.
"Jordan is able to provide that unconditional love and connection that a lot of our kids have never had. She's able to support them in ways that we as therapists can't," said Ashleah Zigmond, a mental health counselor for Kids House.

Since the COVID-19 pandemic began, Jordon hasn't been able to attend her normal therapy sessions. However, Kids House continues to do what they can to help kids in need. In fact, the pandemic has actually increased the number of abuse and neglect cases.

After only a week, the staff had seen a significant increase in referrals coming into Kids House. The staff are concerned about the kids because everyone is isolated, so families are more stressed than usual. It's even harder without Jordon around to comfort the children in person.

How Does Jordon Work Virtually?

To accommodate the pandemic, Jordon has taken her therapy duties virtual. By visiting with kids through the computer, she is still able to give them plenty of joy and comfort. Jordon has her own remote setup at the Kids House where she can still continue her sessions from a safe distance.

"We had a telehealth session with one of my little ones – you've seen her walking me around Kids House in prior posts." Jordon posted on her very own Facebook page. "When she saw me on the computer first thing she said, 'I missed you Jordon.' I showed her my bunny as she held her stuffed Jordon puppy. It's hard not seeing my kids!"

During the sessions, the kids can see Jordon while they talk with a therapist. They can also use a stuffed animal for the sensory and breathing exercises that they usually do with Jordon. It's not the same as having her there with them, but it can still help greatly!

The staff is looking to add to their virtual sessions in any way possible. They plan to start taking the young children on virtual tours with Jordon. The more ways Jordon can help others, the happier she seems to be.

"It's not unusual for her to actually seek out someone that she thinks sounds worried or upset," said Denise Conus, a mental health program director for Kids House.

Hopefully, Jordon will be able to resume her in-person appointments soon, but for now, she will do everything she can to help children virtually. There are always kids out there that need love and support, so Jordon is determined to give them that. No one can provide comfort like an adorable furry friend.