Therapy Dogs
August 31, 2020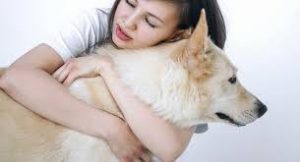 It's well-known that having a pet or support animal can provide significant psychological benefits to people suffering from stress, anxiety or loneliness. A new study at the Mayo Clinic suggests that pet therapy can also help people with fibromyalgia.
To gain a better understanding of the physiological and emotional benefits of pet therapy, researchers monitored the hormones, heart rate, temperature and pain levels of 221 patients enrolled in the Mayo Clinic Fibromyalgia Treatment Program. Half of the participants spent 20 minutes interacting with a therapy dog and its handler, while the other half served as a control group, spending the same amount of time with the handler only.
The research findings, recently published in Mayo Clinic Proceedings, are striking. People who interacted with a therapy dog had a statistically significant increase in levels of salivary oxytocin – a hormone released by the pituitary gland that is known as the "cuddle hormone" or "love hormone."
They were also more relaxed, their heart rates decreased, and they reported more positive feelings and fewer negative ones compared to the control group. Over 80% agreed or strongly agreed that animal therapy was helpful to them.
Pain levels declined in both groups, but there was a larger decrease in those who interacted with the therapy dogs. On average, severe pain scores in that group dropped to more moderate levels.
"Given that individuals with FM (fibromyalgia) suffer pain chronically, this reduction, even if numerically minimal, could help to provide symptomatic relief and quality of life improvement," researchers concluded. "Overall, the study showed that a 20-minute human-animal interaction (treatment group) as well as a human-human interaction (control group) could improve the emotional and physiological state of patients with FM; however, those who interacted with a therapy dog showed a more robust improvement."
Fibromyalgia is a poorly understood disorder characterized by widespread body pain, fatigue, poor sleep, anxiety and depression. Its cause is unknown and many treatments prove ineffective.
The Mayo Clinic study was unique in another way – because researchers monitored and collected saliva from the dogs to see how they responded to the therapy sessions. Although therapy dogs are used in a wide variety of clinical settings, little is known about the impact of therapy sessions on the emotional state of the dogs. Researchers say the 19 dogs involved in the fibromyalgia study — all members of the Mayo Clinic Caring Canines program – did not show signs of stress, appeared to be more relaxed, and had significantly lower heart rates at the end of the sessions, a sign that they enjoyed interacting with patients.
"We need to expand our understanding of how animal-assisted activity impacts therapy dog's well-being, and this sizeable study with 19 dogs of various breeds provided solid evidence that animal-assisted activity done in the right condition does not have negative impacts on well-trained therapy dogs," said François Martin, PhD, a researcher for Purina, which sponsored the study.
"This only encourages us to do more research to continue to demonstrate the power of the human-animal bond on people while ensuring assistance animals also experience positive wellness as a result of their work."
You don't need a trained therapy dog to enjoy the benefits of having a pet. A recent survey of older adults found that dogs, cats and other pets help their owners enjoy life, reduce stress, keep them physically active, and take their minds off pain.