Therapy dogs add comfort for students
April 6, 2020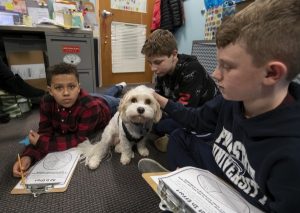 BRIDGEVILLE — Sam loves coming to work at Woodbridge Middle School, principal Tara Downes said — "and the kids truly love seeing him," she added.
Sam, an 11-year-old golden retriever, recently joined the school as a therapy dog.
"The students are always asking for him. They have said that he lifts their spirits, and he makes them smile," she said. "He just absolutely loves the attention."
Ms. Downes and Sam are just one example of schools throughout the state that are bringing therapy dogs in to assist with academics, as well as the social-emotional component of school.
While public schools and charters are closed through May 15, per Gov. John Carney's order that Delawareans stay at home due to COVID-19, this program has been suspended for the time being.
Ms. Downes and Sam received their training through PAWS for People, a Newark-based nonprofit that seeks to connect people to therapeutic visits from pets.
"We know there are scientific benefits — we know that it lowers blood pressure, releases endorphins that make you happier, reduces isolation, helps encourage people to be more social," said Clarice Ritchie, director of events and operations at PAWS for People.
When people have a dog with a "gentle and affectionate" personality, they go through PAWS for training and certification, like Ms. Downes.
PAWS has 530 active volunteers, and are in 43 different schools, said Kate Rosenthal, site manager for PAWS.
She and Ms. Ritchie agreed that the pet therapy model is becoming more accepted.
"There was a lot of concern in the beginning about allergies," Ms. Ritchie said. "I think the schools, in recognizing the benefits, have come up with ways to make sure that children with allergies are safe, but have pets for children who need them also."
School leaders said they communicated with parents and had district leadership support for introducing dogs to the school environment. At Woodbridge Middle, Ms. Downes planned to have Sam come in every day.
"It just overall lifts the spirits in the building, and the transitions [between class] because they're all focusing on him and coming over and petting him and making him feel welcome, and making themselves feel better as they transition to class," she said.
Sam will also be around more regularly during testing time, to help relieve test anxiety, she said.
At Star Hill Elementary, school counselor Gina Zanelle-Sample brings her 2-year-old dog, Luna, as a resource for class visits and sitting in during small groups.
Earlier this month, Luna was enjoying belly rubs as CHAMP — a group of fifth-grade boys — worked on improving their study skills and work habits.
"It's just nice to have her. She's friendly. She's nice," noted Logan Letterman, a fifth-grade student.