Therapy Dogs Volunteer
December 23, 2020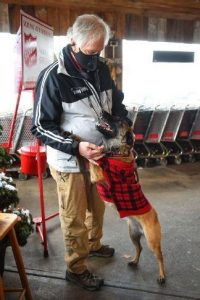 Shoppers in Vermilion were greeted by some furry friends with bell ringers for the Salvation Army on Tuesday.
Therapy dogs volunteered time to stand by the red bucket at the Vermilion Farm Market. Different dogs took turns standing out at the bucket, letting customers give them a pat while donating. Gary Flynn is a trainer for The Dog Advocate, which trains therapy dogs. He said that because of COVID-19, the dogs aren't out in their normal workspaces as much, such as schools and nursing homes.
Flynn said volunteering for the Salvation Army was a way to get the dogs out in the public, but also a good way to cheer up people going in and out of the store.
"This provided a nice opportunity for the dogs," he said. "And, it's the holidays. Who doesn't want to pet some dog fur? We love doing community outreach work."
Haze, an English cream golden retriever, took a morning shift Tuesday. He basked in the praise and attention of customers. A little later, Abigaile, a Belgian Malinois, took Haze's spot at the stand.
"They always seem to draw attention," Flynn said.
The extra help was much needed for the Vermilion Salvation Army, which has seen a drop in volunteers due to the pandemic. Flynn said he knew they needed help this year, and wanted to provide it. Most volunteers at organizations like the Salvation Army are older, and have not volunteered this year out of safety and health concerns.
The Dog Advocate group has been behind a push to put therapy dogs into different places across Lorain County. Jennifer Martinez, who stood beside Haze at the red kettle, is a principal at Sheffield-Sheffield Lake Schools and has taken both Haze and other dogs into schools for children and staff.
Flynn said the group also takes therapy dogs into adult day cares, U.S. Department of Veterans Affairs facilities and nursing homes. He said that while it's helpful for the dogs to be around people, people can also be positively affected from being around dogs.
"It goes both ways; it really does," he said. "Dogs know. They know what you don't know. Or they know what you won't admit. It's a lot of fun to watch people engage with the dog. And you can tell when someone is having kind of an off moment because of how the dog reacts to them."
The therapy dogs also will be out today and Thursday at the Vermilion Farm Market from 9 a.m. to 1 p.m. to stand by the red bucket.