Therapy Pup
August 6, 2020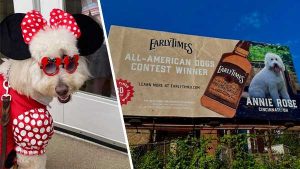 A Cincinnati therapy dog is being recognized for her unique talents, recognized in a national campaign that puts her on billboards and in calendars.
Annie Rose, a 3-year-old English Goldendoodle, was chosen from tens-of-thousands of entries as part of the Early Times All-American Dogs social media campaign.
She's a bit of a viral sensation around the area, with photos of her visiting residents at a Cincinnati retirement home during the coronavirus pandemic melting hearts across the nation.
"Annie Rose has a high sensitivity level," said Lori Rahn, Annie Rose's owner. "Ever since she was four months old, she has been able to pick up on people with terminal illnesses, like a sixth sense. She runs up to them and lays her head in their lap and comforts them. We are so excited that her special talents are being recognized."
The 3-year-old dog participated in a photoshoot with other All-American dogs from across the country, and her picture will be featured in the Early Times 2021 All-American Dogs calendar later this fall. On Monday, a billboard featuring Annie Rose was also revealed in Cincinnati on Interstate 75 near Dayton Street.
"Annie Rose embodies the true meaning of 'man's best friend,'" said Robert Trinkle, with PriceWeber. "She is a certified therapy dog that provides comfort and joy to residents in nursing homes and every individual she encounters. In our eyes, that is a true All-American quality."
The 10 winners hail from Kentucky, Alabama, Florida, North Carolina, Tennessee, Maryland, Ohio, Virginia, Nevada and Indiana. The Early Times 2021 All-American Dogs calendar includes stories of redemption, lifesaving-heroics, military training and unwavering companionship, and will be available to the public in a downloadable and printable version on the Early Times website.