These Recruits Will Be Helping Police
May 26, 2020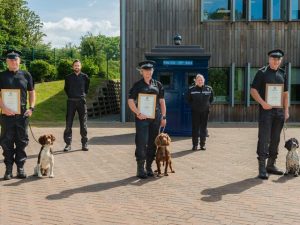 Sam, Roost and Blue received their certificates alongside handlers PC Ian Moore, PC Roxy Cramp and PC Tony Rouse on Friday (May 22).
Chief Inspector Lisa Kirkland and Inspector Gary Panther were on hand to make the presentations for the Cocker Spaniel and Springer Spaniel trio at the Carr Gate complex in Wakefield.
Ch Insp Kirkland said: "The dogs are as valuable part of the police family as anyone else and it is important that we recognise the crucial role that they play.
"They go through a rigorous training programme, to ensure they can support us in some of the most demanding and pressuring scenarios in the fight against crime."
The dogs are trained to locate illegal substances in houses, vehicles and other situations, Ch Insp Kirkland said.
"Often these are secreted in places you would never expect, but the dogs have the skills and the ability to quickly seek them out and bring criminals to justice," he added.
"The training itself is usually with their favourite toy, linking it to the scent of an illegal drug.
"They have no interest in the drugs themselves and it's the reward of their toy that drives them.
"Each of the dogs that have received their certificates have their own distinctive personalities and they have been an absolute pleasure to be around.
"The handlers play an important role in their development and reaching this milestone is in no small part down to their dedication and empathy with the dogs.
"We look forward to having PD Sam, Roost and Blue on duty and I know they will each be a great asset to West Yorkshire Police and the communities we all serve."
West Yorkshire's Police and Crime Commissioner (PCC), Mark Burns-Williamson added: "West Yorkshire Police's dogs and horses units, with their handlers, play a unique and significant role in helping to keep our communities safe and it's fantastic that they are being recognised in this way.
"This initiative follows the recent introduction of 'Finns Law' which gives increased protection to service animals, such as police dogs."
Mr Burns-Williamson threw his "full support" behind the campaign after hearing the story of Police Dog Finn, who was stabbed and seriously injured in the line of duty but whose brave actions were credited with saving the life of his handler.
"A member of the public contacted me with regards to more formally recognising the contribution of police dogs which is something I raised with the Chief Constable on their behalf, so it's a nice touch to see it come to fruition," Mr Burns-Williamson added.
"All the best to PDs Sam, Roost and Blue, as well of course to their human colleague handlers within West Yorkshire Police, I am sure they will make a real difference to our communities and something which the public I know appreciate as well."