Top Dogs
June 2, 2020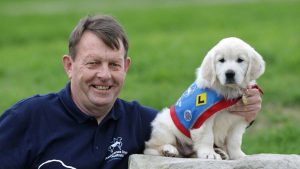 After 16 years as 'Top Dog' of Assistance Dogs Australia and seven years as President of Assistance Dogs International the global accreditation agency, the Sutherland Shire's Richard Lord has set himself a new challenge to educate a puppy for the organisation.
Richard said his two Golden Retriever ambassador dogs had sadly passed away recently so now it's time to raise another that hopefully that will go on to graduate as an assistance dog for someone, that lives with autism, PTSD or requires a wheelchair for mobility.
"This new female Golden Retriever, Dame Quentin, is named after the former Governor General and our patron,she is an absolute cracker and I expect big things from her "
They also supply educational support dogs to schools around Australia and are now unleashing their Animal Assisted Therapy which delivers occupational therapy to children with autism at their Engadine centre or their school based programs in a number of Sutherland Shire schools. The dogs are free of charge across Australia and they and their new owners are supported for the working life of the dog.