Training Service Dogs
May 11, 2020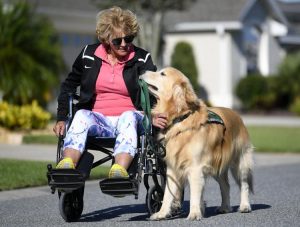 On the heels of graduating from college, a brother's injury led a Villager to teach her German shepherd to help him.
To neighbors looking out their windows, it appears that Cheryl Williams is using her wheelchair to take her dog for a walk.
But the story is much different.
Williams is a puppy raiser through New Horizons Service Dogs in Orange City, and she's been working with Rollins, a golden retriever, since February, getting him prepared for his work as a service dog with a wheelchair-bound recipient.
Sometimes her therapy Maltese, Elmo, jumps up in her lap during the training. She walks Rollins in the wheelchair, which is a heavy old-fashioned model someone donated to her.
"He'll get on my lap, and then I'll go on the wheelchair with the other dog," the Village of Dunedin resident said. "I'm gonna have some guns on my arms."
There's a lot to look at outside for a curious dog, but it's not a casual stroll.
"You can't let him pull you," she said. "(There'll be) a bunny, a squirrel, and people out and golf carts going by, and the dog has to not be distracted."