Training Service Dogs
May 7, 2020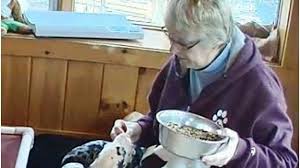 When Thatcher discovered the Ipswich-based Service Dog Project, Inc., she knew she had found a perfect fit for her passion — and helping others in need.
The organization is located on a farm surrounded by fields, where dogs run, play, and learn. Once trained, the dogs are matched with those who may need them in accomplishing basic tasks.
Preference for service dogs is given to military veterans, first responders, and their families, according to the organization's website.
Thatcher recently shared her experiences of helping dogs — and helping them help humans. Service Dog Project breeds, trains and then donates great dane service dogs to people with balance and mobility challenges to assist them in achieving greater independence. George, one of our dogs, was named American Kennel Club's Service Dog of the Year, along with his partner, 12-year-old Bella, in 2015. There are many tasks that I do at the farm. Duties range from cleaning kennels, walking dogs, scooping poop and the best part, caring for newborn pups and helping with their first learning experiences as they grow. There are often 60 dogs on the farm that need care as well as donkeys, goats and other animals. Time spent there is never dull! Seven years ago, I saw a post online that mentioned Explore had seven cameras on the farm with viewing 24 hours, seven days a week.
COVID-19 has changed Service Dog Project, as they have to comply with the rules set out by the state of Massachusetts.
What happened is, all of the youngest dogs needed to find temporary homes as caring for them while social distancing would be impossible. Twenty eight homes were found quickly; primarily with volunteers.
Chip is now part of my home and a big, happy pup of eight months old joining my own two dogs.
There is no better reward than seeing a dog you have known from birth grow to become an incredible partner for one who has mobility issues — no matter their age or needs.
Some share stories on our Facebook page, and I feel a sense of pride in reading them.
Many pairings return to the farm to visit, and it's such a treat to see the bonds between dog and recipient. The dog is life-changing for recipients and their families.