Traveling With Service Animals
December 16, 2020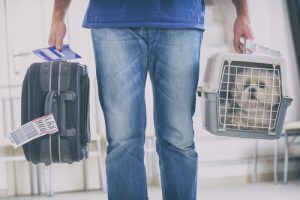 U.S. Sen. Richard Burr (R-NC) commends a newly issued final rule from the U.S. Department of Transportation (DOT) that amends its regulation under the Air Carrier Access Act regarding the air transport of service animals.
The final rule is intended to ensure that the nation's air transportation system is safe for the traveling public and accessible to individuals with disabilities, according to the DOT's Dec. 2 final rule.
"For too long, some people have taken advantage of the service animal program by fraudulently claiming disability needs so they could bring a ridiculous range of animals on flights," said Sen. Burr. "I've worked for years to create stricter service animal guidelines, and I applaud the [DOT] for recognizing the importance of creating a safer and more accessible air transportation system."
Specifically, the final rule defines a service animal as a dog that is individually trained to work for the benefit of a person with a disability; no longer considers an emotional support animal to be a service animal; requires airlines to treat psychiatric service animals the same as other service animals; and permits airlines to require forms developed by the Department of Transportation attesting to a service animal's health, behavior and training, according to the text of the final rule.
"The Department of Transportation's revised rule is a common-sense fix and a big win for Americans and for veterans with disabilities," Sen. Burr said. "It protects the ability of those with legitimate needs to safely travel with trained service animals."
During consideration of the Federal Aviation Administration (FAA) Reauthorization Act in October 2018, Sen. Burr negotiated the inclusion of an amendment to require that the FAA establish a rulemaking to define the term "service animal" for air transportation, and to develop standards for service and emotional support animals carried on airplanes, according to his office.
The senator's negotiation resulted in the DOT seeking public comments in January for a Notice of Proposed Rulemaking on traveling by air with service animals.