VVS welcomes Red, a therapy dog-in-training
March 27, 2020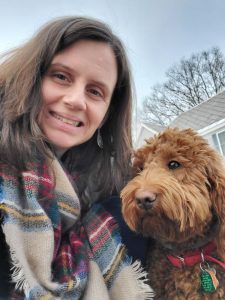 It's hard for anyone to deny that canine friends can hold important relationships with humans. It is this sort of positive connection that VVS is testing out through the newest member of their school body, Red, a therapy dog in training.
The VVS press release reported that four years ago, VVS Social Worker Brandy-Lee Lappin attended a training on implementing therapy dogs in schools.
"Mental health needs were on the rise," Lappin said, "and I had talked with colleagues who were seeing the benefits of therapy dogs in their school districts. That was the catalyst which led my husband, children, and I to make the decision to invest in the cost of having a therapy dog as a part of our family."
Therapy dogs have numerous benefits, the VVS press release stated, whether it's to students, hospital patients, or nursing home residents.
Therapy dogs improve physical health, mental health, and even support literacy initiatives, according to the press release. From lowering blood pressure to reducing anxiety to increasing self-confidence, they can create a better environment for those they interact with. or Red, the press release reported the training process began before the Lappins even took him home, with obedience training until the age of four months. Then, the Lappins hired a private dog trainer to help him pass his Canine Good Citizen test, the first step in becoming certified.