What Service Dogs Offer
July 13, 2020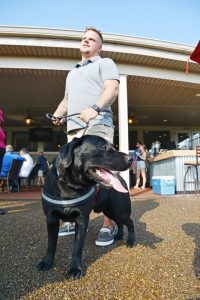 Visa, a custom-trained assistance dog, helps Liam Clark, 10, navigate life.
Looking around the post-golfing gathering at Park Hills Country Club, Liam's mother, Tammy Clark of New Enterprise, said, "Liam would never have been able to come to this before Visa. She's made a huge difference in his life."
Diagnosed with severe childhood anxiety three years ago, Liam and Visa teamed up two years ago through the help of Service Paws of Central Pennsylvania, a nonprofit founded in 2011 by Leslie Kelly of Altoona, who is deaf, after she struggled to afford an assistance dog.
Before Visa, Liam suffered from severely broken sleep and panic attacks that would last several hours, his mother said.
"She often knows he's getting anxious before he realizes it," his mother said. "We didn't want to put (Liam) on medication. We wanted him to learn how to cope and resolve issues himself and how to calm himself down. Visa has helped him tremendously."
Liam, Tania DeLeo of Altoona and Combat Marine veteran Branden Hill of Hooversville, Somerset County, worked with Service Paws of Central Pennsylvania to obtain their canines through New Hope Assistance Dogs Inc. in Warren. Accompanied by their dogs, they spoke to the golfers who helped raise more than $10,000 for Service Paws of Central Pennsylvania with an all-day fundraiser Thurday.
Hill received his service dog, Zeke, in June with assistance provided by Service Paws. Hill suffered a traumatic brain injury during his yearlong deployment to Afghanistan in 2008.
After leaving the Marines in 2010 after four years of service, Hill began experiencing post-traumatic stress disorder, including daytime flashbacks and night terrors, and he went for help through the Department of Veterans Affairs in 2014. Hill and Zeke are in the early stages of getting to know one another and will soon go for their training together at New Hope Assistance Dogs.
DeLeo spoke about how she is raising a New Hope service puppy for her son, whom she declined to name because of privacy concerns. An experienced dog handler and owner, DeLeo said COVID-19 has impacted the pace of their dog's training as well as their business, so the financial help from Service Paws has helped because a service dog is "a huge financial commitment." The DeLeo family welcomed the then- 8-week-old puppy the day before the state shut down due to COVID-19. She discovered Service Paws while researching how an assistance dog could benefit her son.
Service Paws helps residents obtain a service dog and/or helps defray veterinary costs for those currently using a service dog. The all-volunteer organization serves Blair, Bedford, Cambria, Centre, Clearfield, Huntingdon, Fulton, Clinton, Fayette, Indiana, Jefferson, Mifflin, Westmoreland and Somerset counties.
Joe Fagnani is a charter member of Service Paws. He understands how a service dog enhances quality of life as he is a person with blindness who uses a guide dog.
The annual golf fundraiser provides financial assistance for the purchase of a service dog or to cover veterinary costs for current service dog owners. SPCP sends funds directly to providers treating the dogs or to the school from which a service dog is purchased.
Golfer Tom Smith of Hollidaysburg said, "It's a wonderful organization, and I'm happy to be on a team and help these people help out others."
Another participant, Barbara Kooman, said she and her husband, Marty, know Fagnani through the Altoona Rotary Club and their church.
"We've seen how having a service dog has given him the opportunity to live independently and to more fully participate in the activities and events that make life interesting," she said. "Joe is a good role model because he is very engaged in the community. I know folks always approach him to pet his dog. He uses that encounter to help others understand the protocols for people with a service dog."
The Koomans have supported the golf tournament because "Joe is so passionate about helping others who could benefit from a service dog but may need some financial help to acquire a dog. It's a great local organization helping adults and kids in our community to become more independent with the help of a service dog."