Zoo Program Trains Service Dogs
July 22, 2020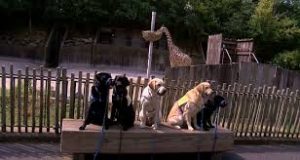 The Memphis Zoo is full of wild animals, but a domesticated one is calling the zoo home for a few months. A Memphis Zoo curator is helping train a dog who will eventually go on to be a service animal.
But like the saying goes, it takes a village. Several people in the Mid-South have been instrumental in raising future service animals.
A group of service dogs visited the Memphis Zoo Friday. It's not quite the crowd you're expecting on a summer day at the Memphis Zoo.
Just like the Zoo's regular visitors, the service dogs in training are interested in the animals, and the animals are very interested in them.
"It benefits both parties because not only is [the dog] getting exposed to a lot, the zoo animals are getting to see an incredibly well-trained service dog," said Memphis Zoo Curator Courtney Janney.
Janney is training a Golden Retriever named North until November when he'll go off to service dog school and eventually serve a person with a disability.
For the first year of North's life, he learned the basics from an unlikely group — inmates from the Hardeman County Correctional Facility.
"We get them in at eight weeks and train them to do their 30 basic commands," said Hardeman County Correctional Officer Cassie Graham.
Graham heads up the Canine Companion for Independence program in Hardeman County. Inmates there have helped train 23 service dogs since 2017.
After they train the dogs, they go to what are called finishers, like Janney, who introduce the dogs to a home environment.
Clearly North is seeing more than Janney's home. He also comes to work at the Memphis Zoo with her.
"At work, I have an incredible support system here to go on this adventure with me," said Janney.
Only a few dogs from Hardeman County go to finishers in West Tennessee. Most are shipped out of state, and Graham hopes more people in the Mid-South are willing to open up their home for a short time to make the dogs the best service animals they can be.
"Whenever we get them out people are very interested," said Graham. "It's just getting them out more to let people know about the program we have."