Animal Connection Strategies
September 10, 2020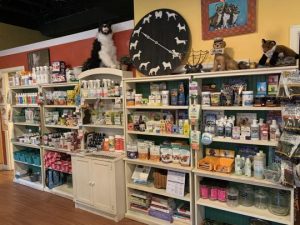 Once upon a time, long before the advent of supermarket shopping, the neighborhood general store transcended the mere acquisition of provisions. Particularly in rural areas, the institution formed the heart of a community. Residents relished the occasion to sit a spell, exchanging news and gossip over a cold drink.
Early on, many proprietors first serviced the needs of residents as roving peddlers, eventually hanging a shingle on their very own brick-and-mortar mercantile.
When advertising agency owner Pattie Zeller decided to leave her career behind to open Animal Connection in Charlottesville, Va., she drew not only on a wealth of marketing expertise and her love of pets, but on quaint memories drawn from her grandfather's general store.
"I always liked the casual look, the feel, even the smell of that store," she says. "It wasn't a place where customers ran in and back out—they were there to find out what was going on in the community, to visit friends. My grandfather's store sold homemade sausages and cheeses, and a big woodstove in the middle of the store roasted peanuts daily."
Much like those of bygone merchants, Zeller's enterprise began with a sense of community at its heart. In 2002, her beloved Chesapeake Bay retriever, Ernie, developed cancer.
"The vet recommended chemotherapy, telling me I would probably add another year and a half to his life," Zeller says. "From there, I went to a holistic veterinarian for another opinion. He suggested trying raw food and Chinese herbs."
Ernie healed and thrived, eventually living to the ripe old age of 18. Raw diets for dogs had not yet entered the mainstream of pet retail offerings, and Zeller began to hear of several area residents feeding this diet to their pets. The decision was made to stock enough product to supply those families. The operation began out of Zeller's garage in 2002.
"I thought, 'Gosh, I'll be the hub,' and every other week a big truck would drop off 500 pounds of raw pet food, and I'd make sure it got to where it needed to go," she says.
Zeller's garage was soon outgrown, and in 2003, the entrepreneur began welcoming area pet lovers to Animal Connection, her own brick-and-mortar establishment. Zeller felt her marketing skills would translate well to the pet world.
"For 20 years I'd been selling everything from NASCAR to furniture in the advertising business," she says. "I knew how to sell; I just needed to know what to sell. That was the learning experience."
When it came to the ambiance of her new venture, Zeller called on the pleasant memories of her grandfather's establishment, adding a Zen-like twist.
"The country store vibe was like going back to my roots," she says. "I wanted that country feel."
Opting to forgo traditional shelving in favor of antique fixtures, Zeller sought to further enhance the general store aura by seeking the advice of a feng shui master for guidance in arrangement and color selection.
"We talked about everything from the colors that the Chinese utilize for good providence to the numerical meanings of address numbers, entrance positioning and how customers are welcomed into the store," Zeller says.
While fixture shapes and placement encourage a flowing environment, colors take center stage in setting a charismatic tone. For instance, the majority of the store is coated in a "Provence" shade of yellow, a hue that calls to mind the warmth of southern France. In the gift section, a vibrant barn-red elicits enthusiasm. Soothing wheat-beige tones cover the walls of the grooming salon, serving as the perfect elixir for the anxious canine. Large photos of pets, along with vintage pet-related prints, adorn the walls.
"We chose the colors and display theme because we wanted to be a place where customers would spend time browsing for quality products, learning about our program of proactive pet care and becoming part of the Animal Connection family," Zeller says.
This welcoming ambiance is enriched by stellar, well-versed staff members who nurture the spirit of community by offering a warm reception, mingled with genuine interest in both pets and their owners. Knowledge in holistic nutrition and pet care reigns.
"A customer might be coming in for food, or for help with a coat condition that their dog might be experiencing. From there we can have a conversation—what can we do nutritionally to resolve a dry coat?" she says.
Thus, sensitivity and tact are valued attributes.
"Sometimes we have to tell someone something they don't want to hear," Zeller says. "For instance, a pet with issues that could easily have been avoided by choosing a better food. We do a lot of role play for these types of situations."
When considering a new hire, Zeller looks first for a congenial, compassionate attitude, combined with a thirst for knowledge.
"They don't have to know everything about dogs and cats, but they must be focused on learning," she says.
The interview process often finds prospective employees working on a trial basis before coming onboard permanently.
"We put a lot of time into training and want people we can work with," she says. "It's more than pushing a key on a cash register. My name is on the door, and I do not compromise."
An intensive training program covers nutrition, customer service, marketing and sales techniques. In addition, each associate is cross-trained in holistic nutrition and pet care products, as well as grooming and the handling of dogs, allowing groomers and retail staffers alike to help out where needed.
"Our store manual also spells out our way of thinking, from how a customer should be greeted to how to work with them in our store," she says.
As part of the ongoing process of instruction, staff members partake in secret shopping missions involving visits to local retail boutiques and chain stores to observe product presentation and customer service.
With a tagline of "Bark Local," a nod to the pet-community "hub" vibe of the store, referrals are available.
"We want to be a community center, or as my friend calls it, 'The water cooler of all things pet,' and a source for people in need of a veterinarian, or boarding or training, for example," she says. "We are very selective and only refer the services of those we have worked with personally."
As "The Healthiest Pet Store in Charlottesville," Animal Connection offers a wide range of foods and supplements. However, for Zeller, raw food is the diet of choice. Eight freezers present a broad selection.
"In a perfect world, I would have only freezers," she says. "But we realize that because of budgets, people might not be able feed that way."
Instead, suggestions are offered to augment food choices.
"For instance, if a customer is feeding dry food, we provide products that will add moisture—for instance, goat's milk, fish stock or fresh meat when they can," Zeller says. "We try to provide what we feel are the best options at a wide variety of price points, including fresh and raw foods, gently cooked, and good quality canned and kibble selections."
While not in the initial offerings, grooming services were instituted early on.
"When we first started offering grooming, the service [was] very competitive so we began taking all the dogs that nobody else would groom," Zeller says. "For instance, dogs that might have come from a rescue situation and were stressed out, matted coats, those that screamed or maybe didn't want their feet touched. We took the dogs that vets or other groomers wouldn't touch."
The gentle, stress-free environment is a balm for the anxious canine. Additionally, Animal Connection is known for providing grooming training to puppies. Young or old, coiffed pups go home as soon as grooming is complete and do not wait in crates.
"It's a premium service, but if we can teach these dogs to be better, we have a customer for life," she says. "They don't mind paying a little extra for that." For do-it-yourselfers, two self-serve washtubs allow canines in need of a little pampering to relax into deep, easily accessible, custom-designed tubs. All accessories, such as aprons, shampoos, facial washes, ear washes, combs, dryers and towels, are provided.
With caring, well-educated staff members and a stellar mix of product and services in place, Zeller felt the need to add to her traditional advertising know-how with a deliberative update in 2018.
"I may have come from a marketing background, but I had no idea how to market to millennials," she says.
In partnering with Jerry Miller, founder and president of VMV Brands, an advertising and events agency in Charlottesville, Va., Zeller was able to achieve this objective. Focusing on the strategy behind the use of social media, engaging, targeted content for postings was developed, including viral contests and even a check-in "selfie station" at the store.
"The selfie station is basically a cutout of me with my arm out for a photo-op," she says.
Entertaining and informative video content attracts a broad swath of the community through "What's Barking Local," an hour-long, weekly program co-hosted by Zeller and Miller, in conjunction with Miller's I Love CVille YouTube network. Local rescue groups and other pet-related institutions are showcased, supporting Animal Connection's "Bark Local" tagline of championing area pet concerns. "We recognize that some of the smaller rescues are doing really awesome things, but they don't always have the budget, so we bring these people on the show, let them talk about what they do and how they do it," Zeller says. "It's that community aspect of raising awareness."
Another component to the marketing renovation included a revamp of the Animal Connection website, offering a more mobile approach.
"I needed more functionality to be able to respond to customers quickly for reviews and to do my blogging," Zeller says.
These approaches produced an incremental increase in revenue, while branding Animal Connection as the epicenter for everything pet.
"I have been extremely happy with the changes," she says.
Zeller's association with VMV Brands and the production of "What's Barking Local" has also proven instrumental in the growth of Zeller's major fundraising push, Dog Fest: Charlottesville's Most Fun Outdoor Party For Dogs, an annual event.
"VMV Brands has relationships with print advertising, television and radio," she says. "Through their promotional efforts, we jumped from 2,000 attendees to 3,000 to 4,000 people in one year."
The happening takes place at Charlottesville's IX Art Park, where Animal Connection also partners with Three Notched Brewery, creator of Big Dawg Blonde Ale, the signature brew for the event. A portion of the proceeds from every pint sold is donated to Charlottesville-Albemarle SPCA. Attendance is free.
"It's a huge event," Zeller says. "Last year, we had 45 pet-friendly and pet-related booths, 12 rescue groups, costume contests, pet adoptions, live music and more. It is set up to benefit the entire rescue community, and we allow these groups to collect donations."
Animal Connection's own booth, touted as the "World's Largest Treat Bar," occupies eight attached tents chock-full of treat-sample baskets. Folks browsing the lineup are supplied with a logoed bag to gather canine and feline delicacies while chipping in with funds designated for local rescues and shelters. Collected monies are used to purchase supplies.
"Lately, rescues have been short on food, so we've been using these funds to supply food in cooperation with our manufacturers," Zeller says. "We've also been taking canned and dried food to the local pantry to help those who are out of work or otherwise struggling."
In-store, a special Pet Community Fund allows residents in need to drop in to obtain pet necessities, free of charge.
Staying mindful of pet community requirements is a jumping off point to the "Bark Local" credo. For instance, while the store remained open during the COVID-19 pandemic shutdown, demand for curbside and delivery services increased. Preplanning created a seamless shift.
"We realized it was only a matter of time before this virus impacted our community, so we had a plan in place," Zeller says. "We were deemed essential and made a big deal of that. Our curbside service has been huge."
Little extras for curbside patrons often feature a unique twist. For example, Zeller relies on the National Day Calendar to promote both products and fun. When Pizza Party Day rolled around, furry back-seat revelers savored a lip-smacking good time.
"For our curbside delivery, we make little boxes of samples or treats to give away, and for this day we combined doggie pizza treats with a sale on cookies and toys shaped like pizza slices," she says.
Earth Day observances at Animal Connection find the store's logoed fabric bags playing a role in promoting recyclability, environmental awareness and bargains.
"We tell our customers, 'Hey, whatever you can fit into your bag will be 20 percent off today,'" she says. "We encourage our customers to use our bags around town, and if I see someone at the grocery store or farmers market carrying one, I hand them a 10 percent-off coupon."
Ever aware of the benefits of unique marketing strategies, Zeller recently implemented two VIP membership programs. Dog Scout Club is a retail-focused package that includes self-serve dog washes, socials and birthday recognition. Dog Star Club spotlights dog training clients, covering family manners and therapy dog work, and store add-ons are included. Looking ahead, Zeller is excited to announce the Sept. 1 opening of a new, 1,000-square-foot location adjacent to IX Art Park. The downtown location is anchored by restaurants, a brewery, upscale retail, offices, and the large outdoor art park and music venue. Expanded offerings will include a doggie day care facility, birthday cake bakery, dog training and adoption events. A grassy, fenced space will serve as an off-lead play area available via monthly membership, with priority given to downtown neighbors.
"We will be right smack in the middle of the action," Zeller says.