Firefighters Need Comfort
September 10, 2020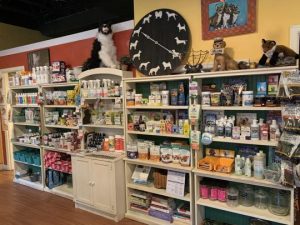 Anyone who has ever known a dog knows that they have the uncanny ability to find those who need them the most, and the firefighters battling the raging blazes across the state have long been in great need of the comfort a dog can provide.
Seeing this need, the handlers for the dogs of the Lutheran Church Charities' (LCC) K-9 Ministry Team loaded up and headed this way as soon as they got the invite.
"The LCC K-9 Ministries embrace the unique, calming nature and skills of AKC purebred golden retrievers to interact with people of all ages and circumstances," said Marilyn Hunter, a caregiver with LCC and handler for comfort dog Micah. "The comfort dogs serve every day in the communities in which they are placed. When invited, they are also deployed in times of disaster and crisis to bring comfort to all those affected, including first responders and the volunteers who serve them."
The LCC works through churches to help individuals and families. Headquartered in Northbrook, Illinois, LCC serves nationally and internationally and has locations in Elk Grove, Napa and Yuba City. LCC never charges those they serve.
During the dogs' visit, emergency personnel currently based out of the Alameda County Fairgrounds spent some time with the furry visitors, playing and finding a way to help them deal with the stress of the continuing fire crisis.
"Whether it is first responders or volunteers, everyone plays an important role in dealing with a crisis," said Tracy Hein, the emergency preparedness manager for the Livermore-Pleasanton Fire Department. "With that can come long hours and stressful situations, which can be physically and emotionally draining. The responders need to be able to disengage for their own well-being and to continue to be effective in their response. Comfort dogs have proven over and over again to be helpful in being able to disengage and de-stress."
"It was an honor to be there as the firefighters were going out and those coming back in after being out for 24 hours," said Hunter. "There is a village of people that support the firefighters, such as the food service, laundry, security, facilities, training and accommodations, and we are happy to be a part of that support group and to support the other groups serving the firefighters. These brave heroes are hot, exhausted and missing their families and pets. Most just grabbed on to Aaron and hugged him for a long while. Sometimes, even tears surfaced as they told us about their dogs at home and how they miss their families." As the dogs made their rounds, many, if not most, of the personnel petted the dogs and talked to their handlers. Some even got on the floor and played with the dogs, and there were lots of smiles to go around.
"How can you not smile when beautiful dogs walk, and you know they are there to support you?" asked Hein. "Watching the volunteers' interactions and smiles I knew they, too, were gaining from the visit."