Autism Service Dog
September 2, 2020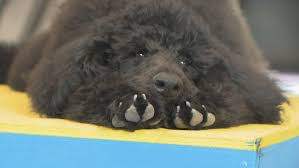 A festival this weekend will help raise money to train an autism service dog. The puppy will go to an 8-year-old girl in Elkhart County. It costs about $20,000 to train the dog.
Lexi Cheney was born with a myriad of medical issues. Her parents later found out she had autism, ADHD and a mild intellectual disability.
Lexi is a sweet girl, who loves markers, crayons and her "baby riley," a stuffed whale she got as a baby.
Lexi's mom, Rhonda Cheney, says Lexi's cheerfulness can change in a second.
"She has two directions. It is either very unhappy or very happy," says Cheney, "there are times when it is firing fast and she just makes choices and decisions based on what she wants at that second."
That makes it difficult to take Lexi in public because she can wonder off and she has other behaviors typical of someone on the autism spectrum.
That's where a service dog will come in.
"She will be able to corral. She is probably going to be large enough to stop, physically stop, Lexi from moving. If not she will have things she is trained to do to distract Lexi," says Cheney.
Lexi picks at her skin. The dog will be able to see that happen and district her.
The dog will also help comfort Lexi and help her live her day to day life.
The family got a black poodle puppy for free from a breeder. She was born on Memorial day.
Her full name is Lady Liberty but everyone calls her Libby.
It will cost about $20,000 to train Libby, which takes about 18 months.
Right now, Libby is in the beginning stages of that training at Top Notch Service Dogs in Elkhart County.
Eventually, Libby will be Lexi's constant companion — offering comfort, guidance, intervention, and most importantly, friendship.
"It is a gift. It is a precious thing for her to have somebody who is not judging her base on her behavior or looks or the way she operates. It is just a friend," says Cheney.
The family is having a huge fundraiser this Saturday, September 5th.
The "A Friend for Lexi" event is at their Elkhart County property at 29330 Salt Lick Trail, Elkhart.
The outdoor festival starts at 5 p.m. and ends with fireworks.
It is free to attend. There will be food and craft vendors, a silent auction and bake sale.