Bear Dog Story
July 3, 2020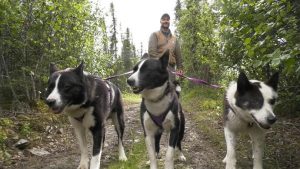 Karelian Bear Dogs are certified K-9 working dogs used to help with bear conservation and safety. The dogs are able to help biologists as they work to train bears to avoid humans. The dogs were recently used on the Isom Creek Fire near the Yukon River Bridge on the Dalton Highway to help protect firefighters from nuisance bears. Handler Nils Pedersen is the director of the Wind River Bear Institute.
"I guess more than anything, what folks should understand is that the Wind River Bear Institute specializes in non-lethal techniques to reduce bear mortality," Pedersen said.
They use things like bear spray, radio collars and infrared to complete this goal, but he said by far their biggest tool is Karelian Bear Dogs.
The dogs are originally from Finland where they were bred to hunt bears and moose. In the U.S. the dogs are used mainly as working animals for bear conservation.
"Our approach, we are not outfitters, we are not looking to get our dogs chasing bears around, we are not sports hunters or doing anything like that. We are using these dogs for a purpose and that purpose is to find bears, get them out of places they shouldn't be, do it in a consistent manor, teaching bears how to move around human occupied space on the landscape and preventing them from having to be killed or relocated," Pedersen said.
He went on to explain that the dogs are selected for their natural abilities. He said only about one in four of the dogs actually have the natural abilities to bay a bear. The dogs are able smell a bear from a vehicle, can track the bears and are fast enough to avoid being hurt.
"They have the innate ability in their breed, in their genetics to dance with a bear if you will," he said.
The handlers use the dogs to help move bears from areas where humans are.
"We walk the bears out at bear speed. What we don't want is the bears panicking thinking we are chasing them down, afraid of us. What they need to know is it's really easy to go back into the woods and really hard for them to come this way towards human occupied space," said Pedersen.
It's not just the bears that are special. The handlers are highly trained.
"All of our wildlife K-9 handlers are biologists, that's our approach, you know, the way we think about things is how to train bears, just like you would train a dog, what do you want the bear to learn? How do we teach it that?" He said.
The dogs help them achieve that goal. Pedersen said dogs from the Wind River Bear Institute are used across North America and even in Japan to help with bear conservation.
Pedersen said he enjoyed working with the fire service and that he will continue to do so when they need him.