Breath Of Fresh Air
September 11, 2020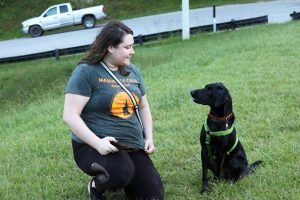 The outdoors have provided a much needed escape for one student and her service dog.
The life of Emily Miller, a junior at Morehead State University, hasn't been affected greatly by COVID-19, however, her service dog, Blue, has had her training disrupted.
"I was very lucky in that she had already passed the major socialization period with my trainer," she said. "But it was very important that she get socialized and get public access under her belt."
Much of her task training took place at home, while her public access training had to be put on hold because of COVID-19.
Blue is psychiatric and mobility trained service dog whose ask training assists Miller with issues she has throughout the day.
"Some days I have impaired mobility and can't walk around," said Miller, a biology major. "She can retrieve items, turn on and off lights and push buttons. She's also psychiatric, so if I have a panic attack or a flashback or psychotic episode, she can help me with that."
Despite her halted public access training, Blue is still able to enjoy open spaces such as Eagle Lake. Miller's daily routine alternates between outside time with Blue and working on coursework.
The time spent outside makes their training sessions run smoother. According to Miller being outside is much better than being stuck indoors all day, especially if you are sensitive to the effects of isolation. Even if you are not interacting with anyone, it's good to just enjoy the outdoors for a while.
"Going outside is literally a breath of fresh air," said Miller. "It's really nice just to be out and see things that are growing that aren't affected by COVID."