Bringing Service Dog Home To Owner
September 2, 2020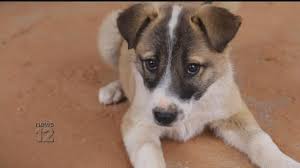 Long Island's Paws of War has worked to bring a service dog to the U.S. to help a veteran — but a paperwork error could send him back overseas.
Staff Sgt. AJ Kirrish is a military veteran who is desperate to get his dog, Harley, home.
"She's such an important part of my life, all we want is to do whatever we can to get her home," says Kirrish. "The feeling is helpless and it is not a feeling I feel all too often."
Harley was a stray dog that he befriended while deployed in a combat zone in the Middle East. She was then adopted by the military base.
"She would be so excited to see us, we would go on runs and she would go with us, and she would play and it was just great to have her," says Kirrish.
The Paws of War organization arranged for Harley to come home to the U.S. and live with Kirrish and his wife, but that all changed when the dog arrived at the airport last week and was not allowed to leave because of a mistake in her paperwork regarding vaccinations.
"Time is really of the essence and I was able to get the entire Long Island delegation, my colleagues that represent the rest of Long Island to stand up and say this is ridiculous," says Rep. Kathleen Rice. "This is a piece of red tape that can be easily waved with no special conditions."
Rice was among those to write a letter to the Centers for Disease Control and Prevention, demanding immediate intervention to save the life of the dog. If she is not released, there is a flight scheduled to bring her back to Jordan in two weeks, where News 12 is told there is a high chance of her being euthanized.
The upsetting issues have only added more turmoil to the family, who are also dealing with fertility issues.
"We haven't been blessed with any children of our own, so Harley and our dog Zoey… they are our children, they are everything to us," says Kirrish.