Canine Advocate Joins Center
September 23, 2020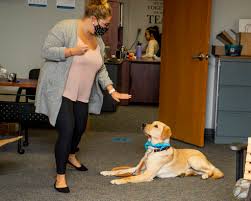 When child victims of sexual abuse or physical abuse prepare to recount their experiences to a forensic interviewer, or a jury, they'll now have a four-legged companion for added support.
Alfred, a 20-month-old golden/Labrador retriever mix, received his official neckkerchief Monday from Canine Advocacy Program (CAP) Coordinator Dan Cojanu, and started his training at the Ionia-Montcalm Secure and Friendly Environment Child Advocacy Center (CAC) in Fenwick.
Ionia County Prosecutor Kyle Butler, who serves as vice president of the CAC Board, credits CAC Executive Director Lori Kirkhoff for her expanding vision for the agency — which includes Alfred.
"I'm thrilled to see the CAC continue to grow. Lori has done a fantastic job navigating our non-profit through the difficult waters we've all experienced with COVID," Butler said. "Now, her efforts have resulted in the addition of a canine advocate, Alfred. 
Alfred is the latest canine to join CAP, which provides a highly trained dog to advocate for child abuse victims by accompanying them throughout the criminal justice process. CAP dogs are trained and donated by Leader Dogs for the Blind.
"Having a canine advocate at the CAC will be a tremendous addition to our staff," said Andrea Krause, Montcalm County prosecutor and president of the CAC Board. "I believe he will provide friendly and caring comfort to our child victims."
Alfred is officially Kirkhoff's dog. He joined Kirkhoff and her family Sept. 13 and spent the first week getting to know them and bonding in his new home. However, his handlers in the office will be CAC Family Advocate Hannah Lenz and Intake Coordinator Katie Krueger.
Lenz and Kreuger greet families when they enter the CAC at the beginning of the process, and are with them throughout, so it made sense for them to be assigned as handlers, according to Kirkhoff.
"Those two people are specially trained to be bonded with that dog, and they are taught all the commands the dog knows too, so the dog knows to listen to them and what the rules are. They're the ones who have control of the dog in the office," Kirkhoff said. "When I come in, I just hand over the leash. I go about my business and leave, and he has to learn to ignore me. He did a great job of it today."
What makes Alfred different from other therapy or facility canines is that he will follow children and their families through the entire process of child abuse cases, from the interview, investigation and prosecution to trauma treatment, according to Kirkhoff.
"Research shows that when children are physically connected to and in the presence of dogs, there is a shift in their brain chemistry," she said. "This change helps to lower stress, to increase ease of connection with others, and to promote a greater sense of safety and well-being."
When each family is called to set up their appointment at the CAC, they are told about the dog to be sure there are no children who are fearful, have a traumatic issue with a dog from the past, or are allergic.
"If the child has no issues, when the child arrives at the center, the canine advocate will greet (them). The idea is to reduce the stress level of the child while they're waiting for their interview,"said  Kirkhoff, adding that the intake process with the parents can take up to 30 minutes, during which time the child is playing in the waiting room. "This is another distraction for that kid … so that way they are more calm when they go back for the interview."
Alfred doesn't accompany the child to the interview — it's not part of the CAC protocol. The child is told that when they are finished with the interview, the dog will be there waiting for them to visit again.
"That way the child will have something to look forward to when they come back out, and they're able to hug and love on Alfred and, again, reduce the stress after the interview," Kirkhoff said. "During the interview is when they are telling their traumatic story."
The same is true with counseling clients, who can visit with Alfred before and after their session "for extra emotional support," she said.
Alfred will also receive training to go to court when the child testifies. The dog can sit with them during the trial, preliminary hearing or in the hallway — whatever the child needs.
"He is there for the child from the beginning to the end, which is nice, so that there is somebody consistently involved," Kirkhoff said.
The Ionia County Prosecutor's Office has had a canine advocate working in the courthouse for many years: first Patty and currently Naudus. Butler said he has seen firsthand how a dog's presence can settle a victim. 
"I have seen that calming presence result in a victim being just a bit more comfortable in discussing the traumatic events they endured. I have no doubt that this will be the same result at the CAC," Butler said. "In the end, this will be just one more tool that the CAC can provide for families going through the unimaginable, and for that I am extremely excited and grateful that this service can be offered by our local CAC." 
If a child chooses to have the dog accompany them to court in Montcalm County that will be Alfred's job, because Krause's office doesn't have a canine advocate.
Krause said as prosecutor, she is excited about the prospect of using Alfred in court with a child victim.
"The canine advocate will hopefully help make the child's appearance in court less stressful for them," she said.
In Ionia County court cases, the child can choose to have Naudus accompany them; or, if they have already developed a rapport with Alfred, he can be there for support.
"We will honor whatever the child wants," Kirkhoff said.
This week will be all training for Alfred, Lenz and Krueger. Next Monday, Cojanu will return to test Alfred to be sure he is ready to interact with children. If all goes well, the dog will begin working with children next week.
"He is so sweet. He just wants to please everybody, and just wants you to rub his ears and give him love," Kirkhoff said. "The IM SAFE CAC is very excited and we can't wait to start offering this service to our clients."