Canine Companions
August 28, 2020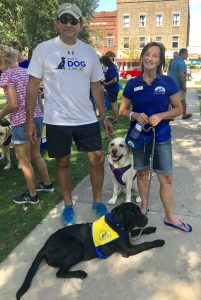 It's a dog's life for Megan Koester. The mother of twin sons owns a pet but she also works with them.
Koester has worked for six years as Canine Companions For Independence (CCI) north central region executive director. She said she has witnessed a lot of growth in the region, which spans 14 states and includes Western Pennsylvania.
"It is so amazing to see how quickly dogs and people bond together," Koester said. "To watch the work they do is magnificent.
"It's magical," she added, "to see individuals for the first time feeling comfortable."
Koester said the goal is for people to be able to go out in the community by themselves without a caregiver or to watch a community interact more frequently with somebody with a disability.
"It's incredible to see how many different ways these dogs help adults, children or vets do what they want to daily but independently and at the same time be in a place where they can comfortably interact with the community," she said.
Animals lovers and others can see for themselves when the organization conducts its annual DogFest from 12 to 1 p.m. Sept. 13.
According to Koester, the national event brings awareness to what CCI does.
It also helps share the group's mission and raise important funds while engaging local communities in activities with their families and dogs.
"We want this to be an event that everyone can participate in," Koester said. "We are encouraging folks to engage with their pets and also spending time to show why CCI dogs are so different and the tasks and the skills that they provide to children and adults and veterans with disabilities."
Because of the coronavirus pandemic, this year's event will be held virtually.
"We want to keep people safe," Koester said. "This was the best way to get information out and the best way we knew how to share with others and keep everyone safe because some of our populations fall into the high-risk category."
Dogfest is the major fundraiser for CCI. The nonprofit owns the dog from birth through its entire time working with its client. The value of the entire partnership is $50,000 per dog.
This year's fundraising goal is $255,000.
"The organization was founded on the fact that we wanted to help with individuals with disabilities to make this tool and relationship as easy as can," Koester said. "So part of that was taking away that financial burden that can be placed on something. So it is important to us to place this dogs free of charge."
During DogFest, participants can chat and ask questions. CCI will provide resources for them to learn more about what the group does.
There will be contests, prize incentives and tools provided to share emails or post pictures of people and their pets on social-media platforms.
"We want to keep it fun and an enjoyable event," Koester said.
"You don't even need a pet to participate."
That's one big advantage of the event being virtual this year. Anyone can participate and it doesn't matter where they live.
"That's a huge benefit," Koester said. "In a small amount of time, people can get a taste of what we do and see how they may want to engage with us. It's easy to do from home and doesn't take much time."