Canine Joins Valpo Police Ranks
May 5, 2020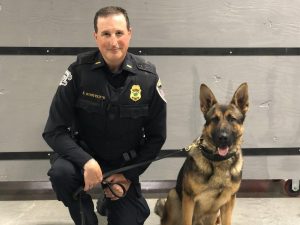 A new police dog will report for duty early this week.
Marko, an 18-month-old German shepherd partnered with Lt. Sean Kostelnik, is the Valparaiso Police Department's sixth canine and the only one certified in explosive detection as well as full patrol capabilities.
Marko and Kostelnik could help other jurisdictions as well if their expertise is needed and they can respond in a timely manner, said Sgt. Joe Hall, the department's commander of support services.
Marko is also trained in tracking, building search, area search, aggression control and obedience.