Chip Implants For Dogs
July 28, 2020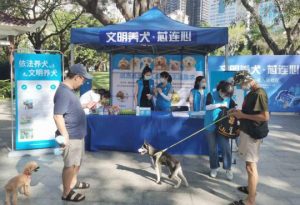 By the end of this year, every pet dog in Shenzhen, Guangdong province will be required to be implanted with a chip that bears information about its owner.
The chip is about the size of a grain of rice and would hardly have an impact on the animals' health, experts say.
"It is a common practice to supervise pet dogs with chips in Western societies," said Zhang Jianjun, a law enforcement officer in Shenzhen Municipal Comprehensive Law-Enforcing Bureau of City Administration.
"From October, pet dogs without chips will be recognized as illegal. In November, we will enhance law enforcement and punish the owners of pet dogs without chips," Zhang added.
Every chip has a unique number to help identify the dog owner efficiently if the dog goes missing. It also helps prevent the owner from abandoning the dog, according to Yu Xinyi, chief of the Shenzhen small animal veterinary association.
The bureau has paid visits to developed countries and regions to learn how their governments supervise pet dogs. In April last year, Zhang also visited the Hong Kong Special Administrative Region to learn about the city's dog-managing practices.
"We have adopted the common practices and have also made some adjustments. The chips and implantation fees are free for dog keepers," Zhang said.
To date, Shenzhen has signed chip implantation service contracts with 100 pet hospitals.
Xing Fulan, an assistant veterinarian in one designated pet hospital, has injected chips into 22 dogs.
"The chip implantation needle is a little bigger than a normal vaccine needle, thus it is a bit more painful than a vaccine injection for pet dogs," Xing said.
There are two different sizes of chips: a large one is for bigger breeds, and a smaller one for more diminutive dogs.
Before the injection, the owner's personal information will be input in a special data system with the unique number of the chip. Then, the chip will be injected into the dog.
No adverse reaction has been found in the dogs, Xing added.
Pet owner Wu Zhifan has raised her golden retriever for nearly one year. Her dog was a stray that had been abandoned by its last owner in Zhuhai, Guangdong.
The dog suffered a lot, with a broken leg and skin disease. But it retained its docile character that prompted Wu, who was actually scared of dogs, to take it back to Shenzhen and keep it.
Due to her experience, she naturally agrees with chip implantation.
"If it does not hurt dogs, it is a good way to protect them as they are so loyal to us," she said.
There are about 160,000 registered pet dogs in Shenzhen. Pet hospitals that are qualified to inject chips will be listed on a WeChat public service account for dog owners' convenience.
For owners who have difficulties taking their dogs to be injected in pet hospitals, the bureau can coordinate to provide door-to-door injection services, Zhang said.