Corrections Dog Saves The Day
September 10, 2020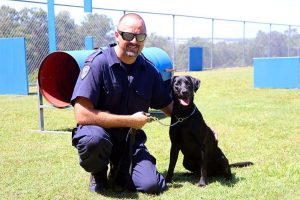 Excellent sniffing by Passive Alert Drug Detection dog Carrie led to drugs worth an estimated $48,000 being seized from a woman intending to visit Townsville Correctional Complex (TCC) last month.
Carrie and her handler were taking part in a joint weekend operation by Queensland Corrective Services (QCS) and Queensland Police Service (QPS) on August 22, conducting searches of TCC visitors.
On one of those searches, Carrie gave a conditional response to a potential visitor which indicated to her handler that the woman may be carrying illicit substances.
After a locker search and questioning by QCS and QPS officers, the woman retrieved a package from her bra which was subsequently found to contain a quantity of Buprenorphine, used to treat opioid addiction, worth an estimated $48,000.
The woman was then taken to Stuart Police Station where she was charged with unlawful possession of a restricted drug.
TCC General Manager Chief Superintendent Louise Kneeshaw said QCS had a zero-tolerance approach to contraband in prisons.
"No matter the reason, if people attempt to introduce contraband into QCS properties or facilities, there will be consequences," Chief Superintendent Kneeshaw said.
"The introduction of contraband, particularly drugs, is a significant risk to the safety and security of our officers, prisoners and visitors, and our officers work diligently to thwart attempts to smuggle contraband into our centres.
"I commend our intelligence and custodial officers on their ongoing efforts, in conjunction with QPS, to ensure the safety of our officers working in the centre.
"This is just one example of the work they do every day to keep our community safe and ensure their colleagues on the front line remain safe.
"Our Delta Units provide another layer of security for our centres, and they work hard to keep their colleagues safe by sniffing out contraband.
"It is not worth the risk trying to smuggle contraband into our centre – you risk ending up in prison yourself."
Taking or attempting to take a prohibited item into a corrective services facility is an offence with a penalty of up to two years' imprisonment.
In addition, introducing dangerous drugs into correctional centres is classified as "aggravated supply" under the Drugs Misuse Act 1986, with a penalty of up to 25 years' imprisonment.