Dog Attacks On Mail Carriers
June 30, 2020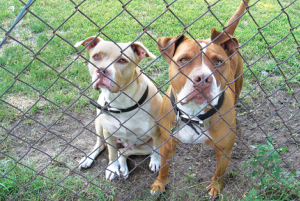 A Pit Bull crouches in a yard as a mail carrier approaches in the photo on the USPS National Dog Bite Awareness Week News Release (April 14-20), which reports that in 2019, dog attacks in Los Angeles on U.S. Postal Service carriers rose 23.3%.
This jump from 60 in 2018 to 74 in 2019 also maintains Los Angeles' position as the #2 dog-bite city in the entire U.S.
The Los Angeles city increase occurred even though the overall national number declined by over 200 bites. California again ranked as the #1 state in the country with 777 of the national total of 5,803.
Two other CA cities made the USPS 2019 dog-attack list again–San Diego and Sacramento–but each had fewer bites than last year. Long Beach, which was not on the list last year, rose to 21 attacks on carriers.
Dog attacks inside Los Angeles city animal shelters also increased 59% last year–jumping from 59 in 2018 to 94 in 2019. The victims were the public, volunteers, and employees.
Since LA Animal Services is budgeted for almost $50 million next year as a public-safety agency, we have to wonder what GM Barnette is doing to earn her annual $314,534 tax-funded salary. Calsalaries posted this in 2018, with the analysis: "Brenda Barnette's total compensation is 168 % higher than average Los Angeles salary."
DOG ATTACKS HURT EVERYONE
These painful figures impact all Californians, because increasingly — with more violent attacks causing death or extensive damage to victims — larger insurance payouts result in higher premiums for liability insurance — whether or not you own a dog.
If you are a home owner or a renter, you are footing the bill for the costs of Los Angeles Animal Services failing to pick up stray and menacing dogs and releasing many — especially Pit Bulls — with a history of aggressive behavior and prior attacks on humans and other animals.
We also pay for dog attacks in our health-insurance premiums.
The Insurance Information Institute reported on March 25, 2020, that the average cost paid for dog bite claims nationwide was $44,760 in 2019, up from $39,017 in 2018. Nationwide dog-bite claims rose from 17,297 in 2018 to 17,802 in 2019.