Dog-Grooming Services
September 9, 2020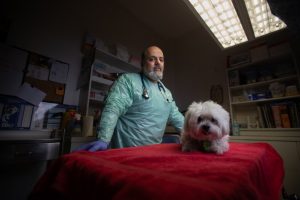 A Melbourne vet has called for dog-grooming services to be reopened despite the city's strict coronavirus lockdown after treating a number of gruesome injuries caused by owners attempting to groom their pets at home.
Dr Jack Zaks has performed emergency procedures on a number of animals at his Elsternwick clinic since stage four restrictions began in August.
In one case, he said the owner tried to trim around their dog's ears, cutting an artery and leading to "a Hollywood-style spurting of blood".
Dr Zaks said dog-grooming services provide an essential service to the health and welfare of pets.
For some breeds, particularly those with long hair, regular grooming is vital to the animal's wellbeing, which some owners are unable to provide at home.
"It's discriminating to say that you can't go to the groomer because dogs need to be tended to, otherwise they will fall into a heap," Dr Zaks said. Under the government's road map announced on Sunday, dog-grooming services will remain shut until October 26, meaning many pets will have been ungroomed for more than three months. Ms Garthe's business, Beanfeet Dog Grooming, shut at the beginning of August when stage four restrictions began.
"It's all about the welfare of the animal," Ms Garthe said. "The business part is probably less important."
Ms Garthe said while dogs were allowed to visits to vets, it shouldn't be expected that vets do the job of groomers.
Australian Veterinary Association president David Middleton echoed this sentiment. He said vets had struggled to cope with providing urgent grooming along with meeting new COVID-related safety measures.
In a survey of almost 100 clients, Ms Garthe found two-thirds said their dog's fur had become matted during lockdown, while 34 said their dog had a skin or health issue that required regular grooming.
Stuart Walford, owner of poodles Susan and Peter, said the hypoallergenic breed required weekly bathing in order to keep their fur clean.
"We've had to do lots of weekly brushing, like three times a week, to help maintain their coat," Mr Walford said. "I personally see more confidence and playfulness in my dogs when they are freshly groomed."
The RSPCA's Victorian branch said pets could experience adverse and serious side effects when grooming was neglected.
In particular, long hair could cause a variety of discomfort and skin issues, including matting. Overgrown nails could cause pain, while double coating from irregular brushing could be a cause of heat stress.
Animal Justice Party MP Andy Meddick has asked the state government to classify dog grooming as an essential service for animal welfare and allow businesses to open immediately.
"There are literally many thousands of things that the government has to consider and it's easy for some to slip through the cracks … which is why I have raised companion animal grooming with them," Mr Meddick said.
"Let's seek the advice of vets, seek the advice of professionals in the industry and see what balance can be struck because these are reasonable people. "They're not asking for open slather."
A government spokesperson said the focus in metropolitan Melbourne was on driving down the rate of COVID-19 infection.
"As a result, pet groomers cannot operate in metropolitan Melbourne," they said.
"If a pet's welfare is impacted due to an urgent requirement for grooming, people should consult their closest veterinarian."