Dog Grooming Services
June 17, 2020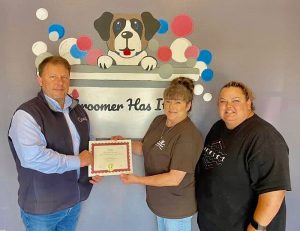 Area pet owners now have another service available to them. A new dog grooming service, with the clever name Groomer Has It, opened June 9 in Gravette. The business is located at 206 Birmingham St. S.E., in the former home of Imagine Before and After School Care.
Groomer Has It offers dog grooming, bathing, nail trimming and more. The owners plan to begin offering boarding services in the near future. A punch card system is available in which customers can get a card punched each time they have their pet groomed. After receiving nine punches on their card, the tenth grooming will be free.
Open hours for the business are 8 a.m. to 5 p.m. Monday through Friday. Owners prefer to operate by appointment only. To schedule an appointment, call 479-367-1825, message them on Facebook or drop by the shop during open hours.
Kristie Cooley and Angie Strode, co-owners of the business, are Gravette residents. Both were formerly groomers at the Village Pet Hospital in Bella Vista. They say they are happy to offer special services to elderly customers who might need them to come to the car to pick up or deliver a pet.