Dog Learns Tricks
July 22, 2020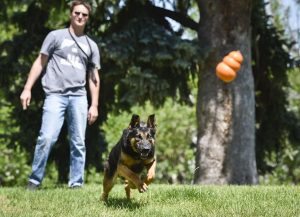 Retired life is going well for a former Helena Police Department officer.
In the two weeks since retirement, he's learned to relax, gone camping for a weekend with his family and found a new favorite chew toy.
Dino spent six years on the force as one of two canine officers. Dino, who is part German shepherd and part malinois, specialized in sniffing out narcotics.
During a July 13 Helena City Commission meeting, Mayor Wilmot Collins introduced a resolution declaring Dino as surplus property to be transferred to his handler and former HPD senior officer John Kaleczyc.
"He's definitely starting to slow down," Kaleczyc said of his partner. "He's not quite as quick and agile as he used to be."
Kaleczyc said Dino, now 8 years old, is not able to get over obstacles as easily as he used to and that he needed more breaks during narcotics searches.
Police Chief Steve Hagen said Dino is near the end of his useful life as a canine officer. Hagen also said that because of the training police dogs receive and the bonds they form with their handlers, it is not easy to switch handlers.
So when Kaleczyc, who has a wife and 3-year-old son at home, recently made the move to the Department of Justice's Medicare fraud division, Hagen said the decision to retire Dino was an easy one.
"Older canine officers typically don't do well with changing handlers," Hagen said. "(Kaleczyc) is extremely happy the dog will continue to be a part of his family."
It was back in 2014 that Dino caught his first case. A pharmacy on Euclid Avenue had been robbed, and Kaleczyc and Dino were dispatched to find the suspect.
Kaleczyc, new to the K-9 unit at the time, said as soon as the duo arrived on scene, Dino's "nose hit the pavement." Kaleczyc said Dino led him to a dumpster in the rear of the building, where the robber had stuffed the toy gun used to stick up the pharmacy.
"He just wouldn't leave it, and I couldn't figure out why," Kaleczyc said.
The suspect was later apprehended by other patrol officers, and Kaleczyc eventually found the toy gun, but he said it was his first real lesson in policing with dogs.
"He was dead on," Kaleczyc said. "That's the hardest thing, to learn to trust the dog, keep your head out of it."
Dino is steadily adjusting to his new life as a pet.
Kaleczyc said Dino is more relaxed during family outings. Before retirement, when Dino got out of a car or his kennel, he would actively look around, assess his surroundings, size-up the people in his vicinity.
"I've noticed him doing that less and less, and that's a good thing," Kaleczyc said. "He's not stopping to sniff every car."
As a police dog, Dino never learned to not chew on shoes. He was never taught not to jump on people. HPD needed Dino to not be afraid to pick up personal articles or take down an assailant.
"He's an 80-pound, 8-year-old puppy," Kaleczyc said.
The years of training have taught Dino to be self-sufficient. While some service dogs are taught to follow the handler's every command, HPD trains its canines to be problem-solvers.
"We have just enough control to be safe," Kaleczyc said. "We want him to think for himself."
Dino excels at problem-solving, and that is a skill he doesn't seem to be losing in retirement.
One of Dino's last live searches came at the behest of the Missouri River Drug Task Force. Narcotics officers knew there were drugs in a vehicle they had seized, but nearly two hours of searching turned up nothing, so they called in the expert.
"We were there for three minutes before Dino found it," Kaleczyc said.
Just like a military serviceman returning from war, Dino will need to adjust to his new life.
Kaleczyc said that between transitioning from HPD to DOJ, he was able to take a couple of weeks to spend with Dino and teach the dog how to be a dog.
"You've got to pick your battles and know there is a huge shift in expectations for him," Kaleczyc said.
Community presentations at places like elementary schools were always a big part of Dino's career, and Kaleczyc said because of that, Dino has a social disposition. But like any new retiree, Kaleczyc said, Dino needs to learn to flip the switch from work to leisure.
"I'm starting to notice he's recognizing play time," he said. "But I know he'd still be on a light switch. He'd turn it on if I gave him a command."