Dog Ranch Rescue
August 6, 2020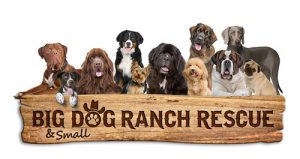 The Loxahatchee Groves Town Council approved site plan amendments Tuesday, Aug. 4 for Big Dog Ranch Rescue, adding a break room for staff and reducing overall kennel size without increasing the overall square footage of the buildings at the facility.
The 65,805-square-foot animal rescue shelter is located at the southeast corner of Okeechobee Blvd. and D Road. It was granted a special exception to build in 2015. Representatives of the nonprofit explained that they are requesting some adjustments after working there a few years.
Representatives for Big Dog said social distancing due to COVID-19 concerns led the applicant to redesign buildings so that staff could have a separate area from the public for breaks.
"During the day, staff needs a place to take a break," Big Dog President Lauree Simmons said.
A planned caretaker house is being eliminated and replaced with a staff support building that will include space for staff meetings, employee lockers and an employee break/lunchroom consisting of a full kitchen with a refrigerator, sink, dishwasher and stove, as well as separate bathrooms for men and women.
A maintenance building, quarantine building for local found dogs and physical therapy building are being increased in size, while a senior dog sanctuary, boarding dog housing and heartworm recovery cabins are being reduced in size.
Town Planning Consultant Jim Fleischmann said the proposal does not increase the total approved building area or floor area ratio and allows the facility to better address current needs, which includes separation of staff from the public due to COVID-19 precautions.
The Loxahatchee Groves Planning & Zoning Committee recommended approval of the amendments last month.
Simmons said the planned caretaker's house will not be built in lieu of keeping an existing house on the property.
"The existing house on the property that was on the last approved site plan is where the staff manager or overnight caretaker stays," Simmons said. "The staff support [building] is not going to have beds in it. Staff just needs a place where they can go in and take their breaks."
She explained that an existing boardroom/meeting room is used by volunteers and visitors.
"After living and working at the ranch for these few years, we're defining what our needs are, so we've fine-tuned it and just moved a few buildings around," Simmons said. "We gave up one of the heartworm pods to have a physical therapy unit because we've got the big Aqua Paws underwater treadmill and a hyperbaric chamber. We take in a lot of dogs that are hit by cars. It's all the same square footage."
Councilwoman Laura Danowski noted that parking space appears to have been increased.
"Does that impact anything as far as drainage?" Danowski asked.
"All of our underground drainage is in place and was complete prior to us finishing any buildings," Simmons said.