Dogs Miraculous Recovery
June 19, 2020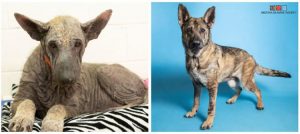 It's a new "leash on life" for a dog who was found living in horrible conditions but is now recovered and ready for adoption.
The 7-year-old German shepherd, who has been named "Baby Yoda," was one of more than 30 pets rescued from filthy conditions at a Phoenix-area home. The dog was in the worst condition of all the pets. In fact, she was in such bad shape, rescuers couldn't even identify her breed.
"You couldn't even tell what she was when we picked her up. It was just one big pile of wrinkles. You couldn't even tell she was a dog, let alone what breed she was," said Tracey Miller, field operations manager for the Arizona Humane Society.
When the dog arrived for treatment in AHS' Second Chance Animal Trauma Hospital, she was almost completely hairless, covered in scabs, and could not comfortably settle down without scratching her irritated skin until it bled. She also needed a great deal of dental work.
Despite the extreme pain she was living in prior to her arrival at AHS, staffers say she maintained the sweetest personality and the best attitude throughout her entire recovery.
And it was definitely a long road back to health. Baby Yoda had to undergo treatment for mange, skin mites and other conditions. Over the course of six months, she endured medicated baths, low-level laser therapy and oral medications. As she gradually recovered, she also got lots of love in a foster home.
Now, Baby Yoda is ready for adoption, and hoping to find her forever home with a loving family!
Although she has made a near-miraculous transformation during this time, staffers at AHS say she does have ongoing medical needs, mostly due to allergies, that will require financial support throughout her lifetime.
Those who know and love her say Baby Yoda is friendly with all people and other dogs. She previously lived with dogs and cats, but there is no information on her previous interactions with cats.
The case involving Baby Yoda and more than 30 other pets is currently ongoing through the Phoenix Police Department.