Dogs Time To Play
July 6, 2020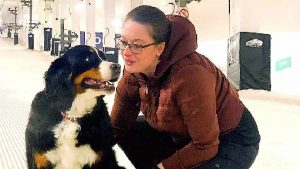 Nova's owner, Heidi, contacted Snozone after recently discovering that her Bernese Mountain Dog, who is nearly 8 years old, has incurable cancer.
Snozone said: "Nova, a happy, wonderful dog, adores snow and it was one of Heidi's wishes that her beloved companion would feel snow on her paws once more, before she says goodbye."
Although they are closed to the public, Snozone made an exception to fulfil Heidi's wishes. They continued: "Whilst we maintained social distancing at all times and ensured hygiene and safety processes were strictly followed, we were honoured to help briefly distract Nova from pain and discomfort."
Nova was born in Canada and lived with Heidi in Calgary, working as a hospital therapy dog before they flew back to live in the UK.