Therapy Dog In Training
July 6, 2020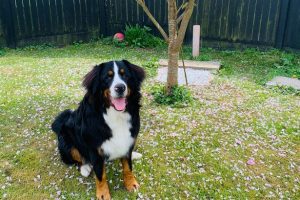 Meet Henry, the 1 year old therapy dog in training. Dog mom Maria spoke to Ireland's Next Top Madra and told us all about her real life teddy bear:
"The idea of Henry becoming a therapy dog came from seeing his lovely personality, he is pure love. When he sits near you, you can't resist but to give him a hug and someone those hugs just make everything so much better, it's like it melts your stress away"
"Seeing Henry give our family so much love made me think that it would be so nice to share this with other people. I've seen Henry be approached by people on the street just to pet him and straight away he brings a smile to their faces.
"I contacted Irish Therapy Dogs and they provided the information that I need in order for Henry to become a therapy dog.
"For starters he needs to be over 1 year, so in the meantime we're teaching him a few basic commands and tricks. Because of him still being a puppy his attention span isn't great yet but sure we are working on it and I'm sure he will do great!"
"Henry's favourite thing to do is to go for a walk to the park and smell every inch of it! There isn't a flower or a bit of grass that he will walk by before he smells it! We are lucky that the park where we go and the times that we take him for a walk isn't too busy so he has plenty of space."
He may look big, but he's a complete love bug:
"Also he loves cuddles, he is a big softy and loves to get cuddles from anyone and in return he gives you sloppy kisses"
"Henry even has his own instagram account, it was just a way of recording his life with us,  from the moment he came to live in our house, and his "adventures."
"I think his account brings a little bit of happiness to whoever watches his stories and that's what it is all about, especially in these times where everything is so uncertain. I think spreading love and positivity it's important and Henry def does that. "But hey! There's still lots of room for improvement – we can not leave any food on the kitchen counter because Henry has become quite the professional thief in the house, he will stand on his two legs and eat it! And leave no trace of any crumbs or break the plate!
"At the start we couldn't figure out what was happening as he was very quiet… until we caught him in the act! This seems to be his best trick so far!
"He also has a very nice taste in women's shoes! Especially mine! The higher the heel the better so I had to make sure I put my shoes away otherwise they become Henry's new possession."
And it's his birthday week – we hope there'll be lots of treats!