Emotional Support Canine
July 6, 2020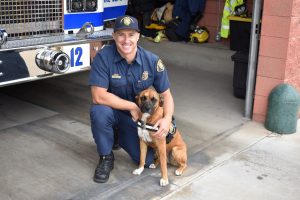 Rhonda, a 1½-year-old canine rescued from a high-kill shelter in the Los Angeles area, lifts her head to get some friendly pats. Outside the Santa Barbra County Fire Department's Station 12 on Calle Real in Goleta, the brindle dog curls up at firefighter and handler Sam Dudley's feet and gives a comforting nuzzle with her nose.
Rhonda is the department's newest member and its first emotional support canine providing comfort to first responders.
Dudley said she did great on her first day just a few months ago during the unprecedented time of Covid-19.
"On her first day, she was utilized," said Dudley, who is assigned as Rhonda's handler. "We went up to the OEM  when COVID first kind of kicked off, and all of the people there were working for hours."
Rhonda is with Dudley at work and at home every day, and she gets a lot of love.
"She's excited when we go home," Dudley said. "When I come to work, she is itching to come out of the crate, and when I open it, she jumps out of the truck and runs inside."
Rhonda will assist firefighters after emotionally challenging calls or with personal issues. She and Dudley are available 24/7 to support all area fire agencies in the county, and they also might be utilized statewide for large incidents.
With firefighters' post-traumatic stress disorder and depression rates five times higher compared with the general population, Rhonda will help ensure that county firefighters are working at their highest potential and support the agency's efforts in sustaining healthy careers.
"Right now, if I were to start crying, she would jump up on my lap and kiss me until I stopped," Dudley said.
Rhonda was trained during a more than nine-month period to recognize signs of agitation, anxiety and stress. She will interrupt those behaviors by providing affection and enabling individuals to express themselves in a safe setting.
She went through the Paws for Life K9 Rescue program that rescues dogs from shelters and trains the canines to assist people enduring extreme stress and to help provide relief from anxiety or distress.
The Los Angeles County-based organization pulls its dogs from area shelters and will put them with incarcerated trainers throughout the California prison system.
The "training process ensures the dog can be safely taken to any scene, and provide comfort, consolation and support regardless of environmental changes," according to Paws for Life K9 Rescue.
Trainers and professionals in the program teach commands, socialization and behavior to the dog, according to the organization.
"I went and visited," Dudley said of the prison. "The commotion and all the big personalities and the noise, it was actually similar in some ways to a fire station. There are always alarms going off. There are people running around … she adjusted well."
Since mid-March, Rhonda has been training out in the field.
"We were doing a lot of training," Dudley said. "I wanted her and I to connect before I made her available to the rest of the department. Now, we are fully bonded and ready to go."
The fire department has a peer support team, and members were selected by a survey process that asked for agency staff they would be most comfortable talking to in times of need. The peer support team is made up of the top people selected by fire department members.
"I was one of them," Dudley said. "It was probably one of the proudest moments in my career. I'm honored."
A peer support team member is available 24 hours a day, seven days a week to listen, support and encourage fire department staff in making the connection to get qualified assistance if needed.
Rhonda plays an important role in bridging the gap between first responders battling a variety of issues and professional help.
"In order for us to help them get the help they may or may not need, they need to open up to us," Dudley said.
The Santa Barbra Police Foundation's At Ease program also offers free counseling services and support to first responders in times of need.
"The fire service for a long time, the subject of mental health, and probably for the vast majority of the public, the mental health stuff was kind of a taboo," Dudley said. "Across the board, all of the departments in the area and throughout the country are seeing the importance of this, and it's a great time to be in the fire service."
Research shows that therapy dogs are mood-boosting and provide benefits for physical health and mental health, including helping people relax, reducing anxiety, increasing mental stimulation and more.
"Studies have shown dogs have a truly exceptional ability to allow people to let their guard down to release endorphins, calm down and feel more comfortable, thus allowing people to open up more to peer supporters," Dudley said. "Then, we can get them the help they may or may not need."
Rhonda acts as an icebreaker in social situations. She comforts the individual.
"They pet her," Dudley said. "It's kind of a distraction initially, and organically she becomes a key part of allowing people to open up."
Dudley said he has had a dog for as long as he can remember. Rhonda is a sweetheart and she is loving, genuine and caring, he said.
"She is pretty special," Dudley said.
She wears a custom dog harness that Dudley made, and it includes a patch resembling the patch on Dudley's shirt, a badge with her name and the No. 5 because she's the fifth canine the fire department has had. It has two other four-legged members, a live search dog and an accelerant detection canine that has been trained to sniff for evidence of arson.
"At the end of the day, we have three dogs, and dogs do provide us with feeling like we are at home — petting our dog," Dudley said. "All three of them definitely do provide a level of comfort, but Rhonda has a little more expertise in recognizing that."
The Wood-Claeyssens Foundation offered donations, and the Manitou Fund supported the purchase of a Ford F150 XL pickup truck, specifically outfitted for Rhonda, to be used by the department for transportation between assignments.
"I have a crate for her in the back, so she is nice and safe when we travel," Dudley said.
The Pet House in Goleta has offered to supply food for Rhonda and assist with grooming costs.
For Rhonda, she's ready to provide unconditional love and warmth to the people who protect and serve the public.
"My goal is people become more and more comfortable asking for Rhonda to come and hang out with them," Dudley said. "My long-term goal is that there are more Rhondas."