Finding Pets Homes
June 1, 2020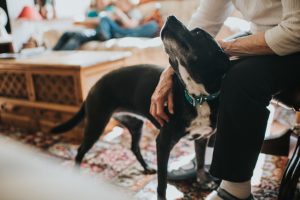 As the coronavirus pandemic goes on, even with the statewide Stay at Home order lifted, people are bored at home.
This boredom has spurred families across the country to adopt more pets. This rings true locally as well.
Elaine Berger, executive administrative assistant and adoption coordinator at Woof Gang Rescue based in Racine, said the organization has completed 272 adoptions since March 1. Last year, the organization had about 200 during the same time frame.
For others, the boredom has extended even to their pets. Union Grove Village Administrator Michael Hawes just adopted a dog to keep his other dog Reggie, a 1-year-old Pitbull mix, company.
Hawes' wife, Jacki, is staying at home, Hawes is working from home and the couple has been tending to their 3-month old son. And Reggie was getting bored.
"Reggie is coming to realize that we're not really as fun people as he thought we were, so adding another four-legged friend to the family that can keep him occupied is probably a good idea," Hawes said.
The couple also has a 12-year-old cat named Max. In addition, Jacki is a professional horse trainer and owns a 14-year-old horse named Lia.
Woof Gang Rescue representatives came over on May 13 to the Haweses' home for a socially distanced meet-and-greet, the only kind of meeting Woof Gang is currently conducting. It is classified as an essential business and representatives are taking precautions to ensure the safety of fosters and adopters.
Shortly after, a 7-month-old Labrador-mix, joined the Hawes family. They named her Marley. She's proven to be calm and has learned how to tire out Reggie.
"(With our new baby), hopefully this isn't too much, but so far she's a really good dog. She's very sweet and she's a good complement to Reggie's very energetic personality," Hawes said.
Jodie Hoffmann-Ruffalo, executive director of Woof Gang Rescue, said there has been a big influx in people willing to foster a pet. Currently, there are about 250 foster homes associated with Woof Gang.
Hoffmann-Ruffalo said more people are fostering and adopting probably because they have more time on their hands to work with animals. Especially for families with kids, people are bored at home, she said.
"Everybody and their brother signed up to foster, which is freaking amazing that people are opening up their homes," she said. "I just hope it's not like the toilet paper. Some people starting wanting one, everybody wanted one and then they ran out. I hope it's not just a fad; I hope people are really, really realizing the long-term commitment of getting a pet."
The organization has worked to make sure recent adopters know their adoption is permanent and not just during the times of social distancing and boredom. Hoffmann-Ruffalo hopes other adoption agencies are doing the same.