Four-Legged Help
July 27, 2020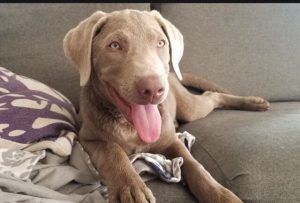 At his age, Alex Carpenter's life could be in danger and he and other people around him may have no idea.
At 2 years old, he was diagnosed with diabetes, and now at age 3, he still doesn't understand the symptoms or warning signs that his blood sugar is running too low, nor does he know how to tell others when it occurs either.
"Alex is still very unaware," said Sara Carpenter, Alex's mom. "He's only 3, he got diagnosed at 2, but it should come in time as he gets older… He might not start recognizing it until he is 5, 6, 7."
Although Alex may be unaware of the dangers of low blood sugar, Brody, a 6-month-old silver Labrador Retriever, will become Alex's new alarm system when he needs help. Brody is currently in Nevada training where he is learning how to sensw Alex's glucose levels and alert others when blood sugar drops too low. "He can fluctuate up and down, so we have to keep a close eye, especially because he doesn't say anything," Carpenter said. "So the dog is going to be a huge help with all of that."
For months, the Carpenters had been saving up $15,000 to pay for a support dog to be Alex's shadow, and it was through the help of their Barrackville Community and the Barrackville Fire Department, that they were able to afford the expense.
"We wouldn't have been able to do this without Barrackville," Carpenter said. "We would have never been able to pay $15,000 for a service dog."
Now, Carpenter maintains a Facebook page, Alert Dog for Alex, to update the community and everyone interested on the progress of Brody's training. She receives photos from the trainers, which display the tiny pup following commands given by trainers.
"In these pictures you can already tell he's sitting, holding up his paw and walking with them on leash and everything," Carpenter said. "I can't even imagine how good this dog's going to be once it has six to eight months under his belt."
Brody is one of the few silver labs to go through these trainers, according to Carpenter, which made him popular with the group. She said the trainers suggested him because of his unique breed, as well as his temperament and personality, since he will be handled by a young child.
"They said he had such a great personality and he was already so calm," Carpenter said. "That was our most important thing… We just said lab and we don't care about anything else as long as it's a super calm dog."
Carpenter said the family hopes to get Brody by the end of November or December, at which point, a trainer will show them and Alex the ropes of handling. She said the whole family and the community are excited to meet Brody, even after only seeing pictures of the support dog.
"When he's ready, he gets flown in with the trainer, and he spends a couple days with us to teach us everything we need to know," Carpenter said.