George Bush's Staff Gets Memo About His Dog
August 31, 2020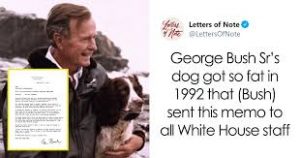 One of the best things about our past presidents is that they had dogs. Barack and Michelle Obama seemed to really dig Portuguese water dogs, and had two.
First was Bo, who started hanging out in the White House back in 2009. Sunny followed, joining in 2012.
Former U.S. President George W. Bush and former First Lady Laura Bush were the parents of Barney, a Scottish Terrier that sadly passed away at the age of 13 in 2013. Bill Clinton and Hillary had a dog named Buddy, who was a chocolate-colored Labrador Retriever. Oddly enough, Buddy might not have been quite as popular as Socks, their pet cat. Then, there were the many dogs owned by George H.W. Bush.
He was truly a dog fan, and had pups around him throughout most of his life. Mildred "Millie" Kerr Bush was the Springer Spaniel who was owned by George and his Barbara. His wife Barbara. Sully H. W. Bush is still living, and was the service dog who was by George's side at the time of his death.
And, then there was Ranger. Ranger was Millie's son, and sources say that the pup quickly stole George's heart. But since Millie got most of the attention, not as many people focused on him. When it came to Ranger, President Bush had a unique sense of humor. He knew that Millie was the more popularly known dog, and that many might not be able to tell the two Springer Spaniels apart at first glance. Presidential Pet Museum reported that once, at a 1990 press conference, George poked fun at the common error. "The other day our dog Ranger appeared at a press conference, and he was called Millie [by reporters]," he said. "He's a strong male dog here, as you can see, and his feelings were slightly hurt." Ranger was named after the Texas Rangers, and had an immediate bond. In fact, there's an interesting tidbit of information that Barbara divulged about their relationship.She actually said that George and Ranger often showered together once per day. Ranger made his way into the White House just to be able to have more room to play and roam, and it seems like George had no problem with this arrangement whatsoever. Barbara was also a fan. "He could leap straight up into the air and his handsome face made us laugh," she said. "He loved to curl up by George's side and was everything in a dog George wanted." Ranger also happened to love human food. Who doesn't? But it became such a big problem that George actually had to write a memo to his staff about it. In 2019, the memo went viral after being shared by Adam Bates for International Dog Day. As the holiday just passed again, it's getting extra traction. The subject of the memo was called "My Dog 'Ranger'" and — while it's never okay to fatshame a dog — you can instantly tell that George wrote the memo with nothing but love. "All offices should take a formal 'pledge' that reads as follows: 'WE AGREE NOT TO FEED RANGER. WE WILL NOT GIVE HIM BISCUITS. WE WILL NOT GIVE HIM FOOD OF ANY KIND,'" the memo reads. It mentioned that Ranger was on a brand new diet to conquer his weight issues.