Guide Dogs Need Your Help
May 7, 2020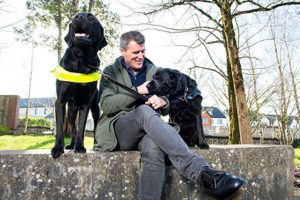 THE Irish Guide Dogs for the Blind's Guide Dog Day (Friday May 8th) enables the charity to raise much-needed funds and is a day to celebrate the difference dogs make to those who are vision-impaired and the families of children with autism who can lead more independent lives.
This year's fundraising efforts have been taken online and to the airwaves with the charity urging the public on its social media platforms to donate what they can to lessen the impact of Covid-19 on its services.
The Covid-19 crisis has had a significant impact on the organisation.
All community fundraising cancelled since March and now on into the summer months against a background where it costs €5m per annum to run the charity and €53,000 to train one Guide Dog.
Ther are 35 Guide Dog clients currently awaiting services and 45 dogs are currently in training.