Helping Service Dogs
May 11, 2020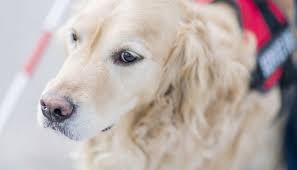 Two sisters, Sherry Ross and Lorette Vanourny, both of Cedar Rapids, founded a local non-profit to train and match service dogs with people in need several years ago.
Some of the first people they helped were hearing impaired, leading to the organization's name — Deafinitely Dogs.
Ask Sherry Ross what it is about Deafinitely Dogs that brings her joy, and she pauses for only a few seconds. Then she recalls a text she received last fall.
It was from a Marine combat veteran whose motorcycle organization had partnered with Deafinitely Dogs for three years, helping match service dogs with vets with PTSD.
"After working with you these last few years and seeing the changes these dogs have had on their person — I want to be happy and laugh again," Ross summarized. "I want to apply for a dog."
"I was on vacation when I got that text, and I had tears in my eyes when I responded," she said.
Ross put the meeting and training process in motion, and the former Marine was matched with his own service dog, a lab named Reggie, in December. They've been inseparable ever since.
Ross, 52, and her sister, Lorette Vanourny, 54, now receive frequent texts from the man with videos of him and his service dog out for walks and playing together.
"They are thriving together — I say better together because of each other," she said.
Deafinitely Dogs provides highly trained service dogs to people who need assistance — whether it's someone with mobility issues, anxiety or post-traumatic stress conditions, medical conditions, or blindness or deafness. The dogs are trained as puppies and eventually matched to their "person."
"At Deafinitely Dogs, part of how we are different is that we let our dogs pick their jobs," Ross said. "We watch what the dogs enjoy doing and gear their career toward that field."
For example, a soulful dog that wants to be close to one person, and looks them in the eye, would be geared toward PTSD or autism work. A dog that loves to retrieve items might be a mobility assist dog. An extremely social and calm dog would be geared toward facility dog work.
The puppies are fostered by "puppy raisers" who take them into their homes and attend classes through the organization — the dogs stay in each home from six months to two years, depending on the amount of training required.
The pups are trained on age-appropriate behavior using only positive reinforcement training, Ross said.
"Our puppy raisers attend classes and go on public outings and to public awareness events with us," she said. "The dogs get trained, but they also get to be dogs — playing ball, going on walks and playing with other pets in the home.
"Puppy raisers teach our dogs basic obedience cues, public manners and socialization."
Communication between the foster homes and Ross and Vanourny is constant, Ross said.
The puppy caretakers provide insight to what the dogs enjoy doing and any preferences they may have — working with men or women, preferring children or being more comfortable with older adults, for instance.
"We let our dogs show us what they enjoy doing so we can put them in a job they love," she said.
When it comes time to match, Ross said, the dogs are the ones that do the choosing. Reggie, the lab, met several applicants before meeting "his" Marine veteran. Reggie hadn't warmed up as much to anyone else, but when they met, he went over and laid his head on the veteran's boot.
"After the dogs tell us who 'their' person is, they enter advanced training to work with Lorette, our lead trainer. She teaches each dog the specific tasks needed for the individual the dog is being trained for," Ross said. "Every dog is unique in what it learns to best help their future person live a more independent life."
Once the dog has mastered advanced tasks, they go through one more training — this one with their new person. The dog's person — and their parents, if it's a child — learn things together, including how to work together.
Deafinitely Dogs places around 15 to 20 dogs per year. Last year, it placed 18 dogs and was on track to place 12 this year before the coronavirus pandemic shut things down.
Families don't pay for service dogs.
"We do not charge for our dogs," Ross said. "But we do require recipients or families to do fundraising on behalf of the dog. We do this because if people aren't willing to do any work before they get the dog, chances are good they will not keep up with the work and reinforcement.
"And honestly, these dogs are expensive to train and place — about $25,000 to $30,000 — so we need assistance raising the funds to cover the costs."
Despite following different career paths as adults, Ross and Vanourny knew from an early age that bringing dogs together with people who need them was their calling.
As children growing up in Cedar Rapids, they showed an early compassion for the most vulnerable: Lorette would "bring home any dog that was out loose — stray or not," Sherry said, while Sherry would bring home kids from school who were having a difficult time at home.
"Our parents were amazingly supportive and allowed many dogs into our home, and multiple kids lived with us over the years," Ross said.
The two founded Deafinitely Dogs in 2014 and haven't looked back. Their success stories keep them going, Ross said.
"A Marine's wife texted us a week after her husband received his dog and said, 'Thank you, I saw my husband smile for the first time since he was deployed,'" Ross said.
The man went from isolating himself from everyone — including his family — to being engaged with his family and other veterans suffering from PTSD. The dog made such an impact on the family, Ross said, that for their anniversary, the couple had the dog's name engraved on the inside of their wedding bands.
"We had a family who got to go on vacation for the first time in seven years because they were not afraid of having their daughter away from her mental health providers," Ross said.
"That's what makes us happy — not just hearing about a successful placement, but knowing that families get to live their fullest lives, enjoying time and experiences together that had previously been taken from them."