Local Businesses Prepare For Reopening Monday
May 4, 2020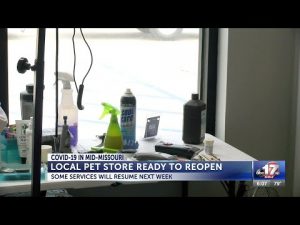 The new order stated that some non-essential businesses could reopen while adhering to social distancing requirements announced Thursday.
The Columbia/Boone County reopening plan rules differ among businesses.
Matt Jenne, co-owner of Addison's and Sophia's restaurants said his employees are working hard to figure out exactly what this new order means for the restaurants, as the order allows restaurants to open dine-in services.
"There's a lot involved in that we have to bring our staff back," Jenne said. "We have to train our staff we have to figure out who's able to come back who's not, who's willing to come back, we want to make sure that we're putting our staff in a position to make sure that they're doing everything safely."
The health department outlines occupancy limits for businesses in its reopening order:
For smaller locations (less than 10,000 square feet), they must maintain 25% or less of the authorized occupancy.
For larger locations (10,000 square feet or greater), they must maintain 10% or less of the authorized occupancy.
Employees at the facilities are not included in the percentage.
All three of Jenne's restaurant locations are less than 10,000 square feet, enabling them hold 25% of the fire code capacity limit.
Jenne said that limit is between 40 and 60 people.
Jenne believes that social distancing will not be an issue even if that means allowing fewer people than the capacity inside the restaurants at once.
Addison's and Sophia's customers that plan to dine-in will be asked to follow some guidelines for dine-in services.
"We're going to want to have sanitizer stations set up so that you can sanitize your hands," Jenne said. "We're going to provide them with either they can look on their mobile device to go to our website to find our menu or will provide them with disposable paper menus."
Jenne hopes to open all three locations by Monday but that may not be accomplished due to all the requirements that need to be figured out.
Another business that has been able to remain open as it is considered an essential business is Lizzi's and Rocco's Natural Pet Market, but there were a few of its services that were forced to close.
Jessica Schlosser, Lizzi's and Rocco's Natural Pet Market Owner, said the business has provided its customers with curbside pick up options, but many people eagerly await another service of theirs to reopen on Monday.
Schlosser said come Monday services like grooming, self-service dog wash and dog training classes will open back up.
Between the two locations, Schlosser said employees have fielded at least 40 phone calls a day from people wanting grooming services.
Schlosser said scheduling already started for next week's reopening and she anticipates that her groomers will be incredibly busy for the next few weeks.
Schlosser said originally grooming was a service that was allowed to stay open during Columbia and Boone County's initial stay-at-home order, but after a week the health department said to cease all non-essential functions in the stores.
This meant all grooming and self-service dog washes stopped until officials lifted those restrictions.
Schlosser said how Lizzi's and Rocco's conducts grooming would have complied with the original stay-at-home order.
"We have one groomer in a room," Schlosser said. "They don't actually really interact with each other they worked themselves and we disinfect between every dog."
Schlosser said come Monday when Lizzo's and Rocco's reopens extra precautions will be in place to keep both humans and pets safe.
"We are taking extra precautions with the entire store," Schlosser said. "We're making sure that we have hand sanitizer available at the front doors for customers, and probably throughout the stores as well but our groomers do an amazing job at sanitizing between every dog anyway and so we just plan on keeping up with that."
Schlosser asks everyone to be patient during the first few weeks as some grooming appointments have already been made for next week and groomers everywhere will be at high demand.