Navy Retires Bob The Bomb-Sniffing Dog After 6 Years Of Service To His Country
May 4, 2020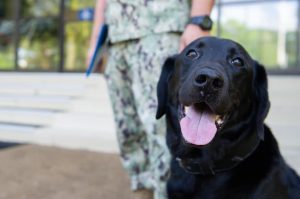 Bob, a bomb-sniffing black Labrador who started his military career as a leatherneck and ended it as a sailor is now enjoying civilian life after being honored with the Navy and Marine Corps Commendation Medal last week.
The patriotic working dog's life of service was recognized during a ceremony at Naval Air Station Oceana in Virginia, presided over by Capt. John Hewitt. Two-dozen socially distanced servicemen and women saluted as Bob, after having a medal pinned onto his collar, walked into the sunset at the end of a leash. He will spend the rest of his years with Senior Chief Master-at-Arms Mike Hausmann, who was Bob's former handler.
Bob's duties reportedly included sweeping areas being visited by high-profile statesmen. The Navy decided to retire the black lab as his aging hind legs made jumping around increasingly difficult. He's otherwise healthy and goes on long walks with Hausmann who said Bob likes to watch the ducks and squirrels, but leaves them be.
"I think he's done chasing stuff," Hausmann said.