Man's Best Friend
November 23, 2020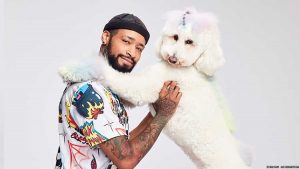 Josh White — the co-owner of West Hollywood's Dogue Spa alongside his life partner, Mehdi Rezig — first found his poodle, Snow, after a breeder approached him two years ago. White and Rezig had just adopted a Doberman named Eden, so they weren't looking for another dog at the time. But on a whim, the couple took the trek down to San Diego, and things just clicked.
"Snow just jumps out, and she immediately just hugs my boyfriend … and right when I [saw] that, I knew I had to have this dog. She's just full of love," Josh told The Advocate. "Ever since then, we spend every day together."
This bond only strengthened on The Pack, a new reality competition in which 12 pairs of humans and dogs embark on a worldwide travel adventure. Amazon Prime Video had recruited Josh and Snow as competitors after finding them through his Instagram account.
After initial hesitation, Josh agreed. And then began a rigorous training experience for both trekking and reality TV. Snow went from knowing "sit" as a trick to learning social skills with humans and dogs and how to perform for the camera.
Josh also learned a lot about his pooch. "We bonded so crazy over this whole thing," he said. As a dog groomer, his job is normally to beautify canines. But this experience made him aware of how she needed to go wild sometimes.
He now better knows how to "let her be a dog," he said, and "jump into the water and get down and be dirty." And after all this time traveling, he now knows immediately when she needs to use the bathroom.
Snow gave gifts in return. "She helped me a lot emotionally," he said. "I cry a lot. I'm very sensitive. It was some hard moments for me, and the only dog I could turn to was her. … She's a real therapy dog for me."
"You'd think it was hard on these dogs, but it wasn't. It was harder for us. And the dogs just helped us out," he said of the experience with The Pack.
"When you accomplish so many things also with your dog … it just becomes this really, really strong bond that no one would understand unless they do this same experience," he added. Josh hopes this experience inspires others to get out there and increase this bond as well.
As a gay man and a professional groomer in the West Hollywood gayboyhood, Josh knows the special bond canines have with members of the LGBTQ+ community, who can struggle with familial and societal rejection. "Dogs have no judgment. They don't care what color you are or what your preferences [are]," he asserted.
"We can learn so much from dogs because they live a life of love and happiness and carefree. And if we just … take something from their book, it would be a happier life."
Snow, with her rainbow colors and unicorn sculpting, is herself is a symbol of Pride. "I will turn anybody's dog into a rainbow unicorn," he promised with a laugh. Josh was inspired to create the iconic look one year for L.A. Pride. Snow was an immediate hit. Now "everybody in West Hollywood knows my dog," he said with pride.
"She genuinely loves meeting people. She loves getting pets. If I can just bring that little bit of joy to people and my city of West Hollywood, I'm the happiest person," he said.
Josh looks forward to bringing that gay representation to Amazon's international audience. "It's a huge deal," he reflected. "It's a part of me, and I just want people, especially younger kids, younger generations to see a person like me, being African-American, gay, owning my own business, having a rainbow poodle … you can just be whoever you want to be."
"I could cry now, it just makes me so happy," he said of his experience traveling the world and spreading rainbow joy with Snow.
Happily, even in quarantine times, Dogue has flourished. At the onset, Josh and his partner fought to have their business considered an essential business — and won. "It's a health thing for these dogs, not just for looks and for color," he asserted. "We're busier than ever."
Josh recommends to other dog owners that, in addition to taking them for a groomer, it's important to brush them and socialize them. "Be as active and social as your dog. They're going through this quarantine with us as well," he said.
"Give them extra love during this time and they're gonna give you extra love back. We all need it right now," he concluded. "And watch The Pack with them … I swear it's gonna make you want to go out there with your dog and do some cool things."
Watch the interview with Josh and Snow (and see Snow perform some fun tricks!) below.