Puppy Love Program
November 23, 2020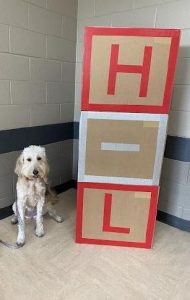 This month, Hopewell-Loudon introduced a new part of their counseling program: a Goldendoodle named Mia.
Mia is a therapy dog owned by H-L's K-8 school counselor, Jenny Sterling. She's a year and a half old, and was born all the way in Florida. Sterling's family adopted her last July.
When Mia was adopted, the thought of her becoming a therapy dog hadn't crossed Sterling's mind. At that time, the puppy was a gift for her son. But with her calm, friendly personality, Sterling knew she could do more.
"Therapy dogs provide many benefits to children in a school setting," Sterling wrote in a letter to H-L families earlier this year. "They help children learn compassion, empathy, responsibility, respect, and self-discipline. Therapy dogs offer comfort and non-judgmental love."
The letter also acted as a permission slip; parents could choose if they wanted their children to be in contact with Mia for the 2020-2021 school year. The slip also included check boxes for allergies or a fear of dogs. However, as a Goldendoodle, Mia's fur might not cause an allergic reaction in some people that are typically allergic to dogs.
Mia is used in classroom guidance lessons, counseling sessions and as a reward for students struggling in the classroom. She's always under Sterling's supervision.
Mia couldn't enter the Hopewell-Loudon school building until she passed her Canine Good Citizen test on October 25. She's currently working on her therapy dog certification with Pawsible Angels.
Her first day in the building was November 5, and she spent two days without the students so she could get used to the environment. She started interacting with students on November 9.
"I felt that a therapy dog would be a great addition to the school," said Sterling. "Therapy dogs provide a sense of connection in difficult situations and make the school environment feel more welcome."
Outside of her work life, Mia spends a great deal of time antagonizing Sterling's two cats. "She lets no object or person get in her way, and has been known to leap over the couch after our cat," Sterling said.
"Mia loves to lean in for some pets and ear rubs," she added. "Her absolute favorite thing to do is give wet sloppy kisses. She especially loves children, which makes her perfect as a school therapy dog."