Mira The Police Dog
May 7, 2020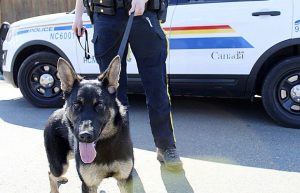 It is a long process for a puppy to become a fully trained police service dog, but Mira is well on her way already.
Mira started training with Const. Tom Peters of the North Cowichan/Duncan RCMP last September, when she was just two months old.
Peters had completed a course on how to train police dogs at the national training centre in Innisfail, Alberta, where all RCMP dogs and handlers start their training. Then he brought Mira back to the Cowichan Valley for crate training, bonding and learning how to get along well in public.
"Then I started training with her that is specific to police duties," Peters related. "I do basic stuff like teaching her how to track using food as a reward. She progresses to the point where she can track someone for about 100 metres."
Peters had to make some sacrifices to work with Mira, but they have been worthwhile.
"I introduce her to aggression training, which is biting," Peters said. "I do things like put on the big body suits and take bites. She is getting better at catching me now, which wasn't so bad until she grew in her adult teeth."
When Mira is around 18 months old, she will return to Innisfail to hone her skills, working with an experienced handler for training in specific tasks.
"The work that Const. Peters does right now with Mira gives her a strong base in order to help her later training be effective," Const. Carlie McCann, the North Cowichan/Duncan detachment's media relations officer explained. "If she passes all of her training, she will transfer to an RCMP police dog service unit somewhere in Canada."
Mira can't respond to a lot of calls right now, but nearby detachments in West Shore and Nanaimo have fully trained police dogs who are able to help with investigations like locating missing persons, break-and-enters, and weapons calls.
"If police on duty assess that a response from a police service dog is needed, their handlers can be reached day or night," McCann noted.