New Pet Parents
November 20, 2020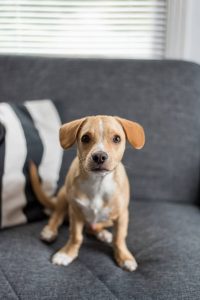 If you're among the many households that welcomed a new pet during COVID-19, you might be familiar with the unique anxieties of caring for a new furry friend, whether you've adopted a dog, a cat, or something a bit scalier. Meditation app Breethe understands the many adjustments that adding a new pet to your brood can bring, so they've just launched a new series of veterinarian-approved guided meditations specifically designed for new pet owners.
The "Press Paws" collection features eight audio tracks designed to make "pup-renthood" easier to navigate for you, while helping your new family member adjust to their fur-ever home. Whether you've welcomed a brand new puppy or a senior pet, there are no doubt unexpected challenges and concerns you're likely experiencing, with this series aimed to help you relax in those early days.
If there is a silver lining to this year and the pandemic, it's that animal adoptions have increased," Breethe co-founder and lead meditation teacher, Lynne Goldberg, told Apartment Therapy. "Bringing a new dog into your life is both exciting and a bit intimidating — it takes some time to get to know each other, and your pup needs to adjust to a new home environment, perhaps for the first time.
She added, "the 'Press Paws' collection was designed to help you practice love, kindness, and patience, while reducing anxiety in your dog. The goal is to facilitate quality bonding (and cuddle!) time and to reassure them that their new surroundings are a safe, consistent, and calm haven."
As for what you'll find: for pet parents specifically, meditations to help develop patience, deal with frustration, work with stressful experiences, practice calming breaths, and de-stress when feeling overwhelmed. For dogs and pet parents, there's Becoming Best Friends with Your Dog, "Fido's Journey to his Fur-ever Home" bedtime story, and the "Don't Go!" Separation Anxiety Playlist, featuring two hours of soothing music.
Not only is Breethe the first meditation app to offer pet-specific content, they're also offering free memberships to anyone who adopts a shelter animal with proof of adoption—with all pet content free during the months of November and December. Goldberg shared, "A few Breethe team members have rescue dogs so this is near and dear to our hearts."