New Ride-Sharing Feature
June 24, 2020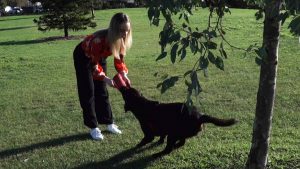 Sarah Sanelli describes her one-year-old chocolate labrador, Hank, as a cuddly "clinger" who is a star of her social scene.
Sanelli, 28, and her partner frequently drive their pup to social gatherings and, when they're open, dog-friendly beer gardens. "I'll take him along with me and not second guess that," she says. "All our friends want to see him as well."
The only trouble is Hank is 30 kilograms – far too big to sneak into a bag in a cab – meaning the return home to their apartment in Melbourne's Brighton can be complicated if they want to have a few drinks.
Uber is on Thursday rolling out its "Pet" feature nationally, after a trial in Sydney and Brisbane, to allow app users to take their pets along for rides.
Sanelli believes it "could be really useful" for when she plans to drink with friends, when she's heading somewhere with limited parking or when caught in bad weather.
"It's a lot easier to have options to still keep your dog around," Sanelli says. "I think our dogs or pets in general are one of us… They're something you have to consider in every decision and I know that we rarely ever leave [Hank] alone.
"The culture is now to bring your dog with you to work, on holidays, everything."
Animal behaviourist Dr Kate Mornement, of Pets Behaving Badly, says pet owners should ensure their animal actually enjoys car rides, warning some can suffer from motion sickness or fear of cars.
She also recommends an animal is well trained and has been toileted before a car ride.
And while it might be tempting to use the Uber Pets feature as an excuse to bring your four-legged pal everywhere, Mornement cautions against that.
"It's important that pets learn to be OK on their own and that they're given quiet time and space at home. This can help to avoid the onset of separation anxiety which is common in pets whose owners never leave them home alone."
Users of the Uber app will now see the option to use Uber Pet, which, when clicked, will match them with a driver who is willing and able to transport domestic animals for a $6 surcharge.
While pets in the past were carried at the driver's discretion, Uber's Australian head of drivers Amanda Gilmore says this would sometimes lead to rides being cancelled. Now, riders can avoid any awkward run-ins because drivers can opt out if they prefer not to carry animals.
"We've seen a lot of people take pets unexpectedly and we want to make sure they have peace of mind that the driver is happy to transport a pet. We never want a situation where a driver cancels the trip because they're not comfortable taking an animal," Gilmore says
Gilmore says the trial of the feature, which began early March, was "popular".
"Even with restrictions during lockdown, there was a real need for emergency situations like needing to get to the vet."
She says the $6 fee acknowledges the additional work for drivers, and they are being encouraged to carry a mat or blanket in the boot of their car as a seat covering for pets to sit on.
"In general most drivers are perfectly happy to accommodate pets and appreciate they get a little extra earning from doing so."
Gilmore says riders may need to cough up a cleaning fee in extreme cases, for example due to urine or vomit.
Owners must ensure pets are restrained with a leash, harness or placed in a carrier, in some states by law.
Gilmore says people with a service animal should continue to use the regular Uber option without paying the pet surcharge.