"Only Daddy's Dog" Book
August 6, 2020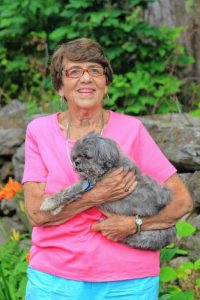 A local author was recently recognized for two children's books she wrote on veterans' families and their service dogs.
"There are lots of children's' books out there and I guess I never really thought of myself as a children's book writer," said Rev. Dr. Cynthia Crosson-Harrington, who is also a pastor at Whately Congregational Church. "'Only Daddy's Dog" was only a passion … and then to have … an award recognize the benefit of the book — I was thrilled."
"Only Daddy's Dog," which was published by Haleys in 2013, is a story about a father who returns home from war with Post-Traumatic Stress Disorder (PTSD) and receives a service dog trained to work with him. In the story, his children must learn that the service dog is a "tool" for their father's healing, not a family pet. The book was awarded an honorable mention by the Purple Dragonfly Book Awards in the 'Picture Books 5-and-Under' category and second place in the 'Special Needs/Disability Awareness' category.
Another book by Crosson-Harrington, "Sunny and Malcolm," received two honorable mentions — one in the 'Charity/Making a Difference' category and another in 'Family Matters.' "Sunny and Malcolm" is about a young boy who befriends a man at a Veterans Affairs center and conspires with him to get his father a service dog. Unlike the first book, which is geared toward a younger audience, this story focuses on the process of getting a service dog and what a service dog can do for its partner.
"I think dogs can be an incredible help to people," she said. "I want children to learn that not only are service dogs a very important piece of healing … I also want children to know what a legitimate service dog is."
Crosson-Harrington, who taught in the behavioral sciences department at Fitchburg State University for more than two decades, has been writing professionally since 1985. She says her own service dog was the "catalyst" for the two children's stories she's written. Notably, she has written other books, both technical and personal, such as "Exploring Child Welfare: A Practice Perspective," published in 2008, and a personal narrative titled "From the Eye of the Storm: The Experiences of a Child Welfare Worker," published in 2015.
"I was so impressed with NEADS (National Education for Assistance Dog Services) after going through the process," said Crosson-Harrington, who was paired with Dandi, a service dog trained for therapy.
The Petersham resident joined the NEADS Board of Directors and was asked to help create the NEADS Trauma Assistance Dog Program for veterans with PTSD. The program was founded in 2007 and the first dog was placed in 2009.
Through that process, Crosson-Harrington says she discovered many of the children of the veterans receiving service dogs didn't completely understand what a service dog was for.
"'Only Daddy's Dog' was an attempt to explain to children that (service dog) was a 'beloved tool' … for healing, something that would help daddy or mommy to heal, that it wasn't a family pet," Crosson-Harrington said.
The story, which was originally published specifically for NEADS, gained such popularity within the organization that other service dog agencies suggested she write a universal version.
"Other service dog agencies use it as well now," she said.
Writing the books has been a personal endeavor for Crosson-Harrington. Last year, she published a memoir that tells the story of how she came to create the program that "gave life" to the two children's books. In the memoir, "You  Cannot Cage the Wolf," she writes about her own struggles after the suicide of her veteran son.  "I feel the work is important," Crosson-Harrington said. "And to hear somebody else say, 'It's good' was very exciting."