Orlando's Working Dogs
August 6, 2020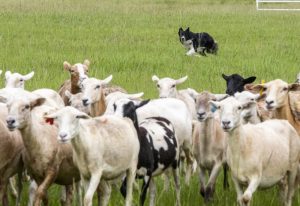 Work Like a Dog Day (Aug. 5) is a holiday honoring people who put in that extra bit of hard work to make sure the job is done right. But it also recognizes the strong work ethic of canines, especially service and other working dogs.
Around Central Florida, canines work in hospitals as therapy dogs, help guard the farm or herd animals and assist law enforcement officers on the job. Seeing-eye dogs help lead blind and visually impaired people around obstacles and animal-assisted therapy has shown to help lower the stress and anxiety of people struggling with trauma. Meet some of Orlando's hardest working dogs who are used to, well, working like dogs every day.
As a firefighter who spent 35 years in the job, Jackie Spence has seen the toll her career can take on fellow first responders.
"My husband and I are both retired firefighters. We've seen what it's done," she said. "We've both lost friends to suicide. We've seen people change mentally after many years in this job." Along with Merlin, Spence took three trips to Las Vegas to visit with firefighters and police officers following the Vegas mass shooting in 2018. She also traveled to Parkland with the Aussie after the 2018 school shooting to visit first responders in South Florida.
Spence said oftentimes it's hard for a first responder to admit they need support, but having a dog nearby can help in processing traumatic events.
"We're the ones that render the help so we don't ever think we need help, and it's really starting to affect us," she said, pointing to the rate of suicide among first responders. "When they don't want to talk about the incident, they'll be more than happy to pet the dog. Usually, we see the dog helping to bridge the gap between them wanting to open up and actually opening up."
Merlin serves as more than just a therapy dog, but as a "crisis response dog," as Spence puts it. Her team with K9 Helping Heroes includes other dogs and handlers who are first responders, as well as a civilian outreach side for the general public.
Spence said that not all dogs are fit to serve in such a capacity, but that Merlin has an inherent empathy that allows him to be so effective in his role.
"It's just amazing what the dogs are capable of sensing and they don't have to say anything. They just stand there," she said. "He's an extremely loving dog and he loves his job. You can tell how happy he is when he's been making visits." It would be challenging (but funny) for a human to run behind a group of several dozen or more sheep, attempting to drive them all in a similar direction.
This is where herding dogs excel. At Linden Hollow Sheep Farm in St. Cloud, Natalie Cole and her grandmother, Sherry Lee, help dog owners in training their border collies, corgis, Aussies, Beaucerons, shelties and more to learn the ways of the herding dog.
The job of such a canine is to bring sheep, geese, ducks or cattle toward a person or to a certain area of the farm while keeping them all together as a group.
In training a herding dog, the process starts with basic obedience and "perimeter work" before the pooch ever gets close to the livestock.
"We'll walk around the perimeters with them so they can see the sheep. We'll get them to lie down, get up," Cole said. "The main thing you want to make sure that you have first is some kind of control, otherwise it can be disastrous."
She also pointed out that individual dogs and breeds herd differently, which makes training an adaptive and tailored process for each canine. Some are excited and bold, such as Jake, a border collie who comes to train at the farm. Others, such as Cole's border collie, Tibbie, can be a bit more reserved.
For some dogs that train at Linden Hollow, herding is a fun exercise to help them burn off energy. For Cole and her family living on the farm, herding is a practical and necessary job the dogs perform each day.
"I definitely couldn't do all this farm work without these dogs," Cole said. The relationship between a police K-9 and handler isn't strictly a professional one, but a deeply personal one that extends far beyond the hours they're on shift together.
K-9 Deputy Lauren Hernandez, who works for the Orange County Sheriff's Office, and 4-year-old Belgian Malinois, Stich, have been working and training together since the dog was a puppy. He also goes home with her every night and rarely leaves her side.
"He lives with me full time, so anywhere I am, he's with me — short of going to the grocery store or something," Hernandez said. "He's definitely a part of the family."
She had to complete almost 500 hours of training to become a K-9 deputy, and Stitch was there learning with her almost the whole way.
The Belgian Malinois' job involves more than simply taking down bad guys. "Stitch is what we call a dual-purpose patrol dog. He's trained in locating and apprehending people, and he can locate evidence. If you were to throw your keys out, he could find those. He's also trained in locating illicit narcotics," Hernandez said. "Their noses are somewhere between 10,000 and 100,000 times better than humans. Our main purpose of utilizing the dog is for their nose."
And while Stitch knows when it's time to work, he can also be a fun-loving, silly dog when he's off the clock.
"He knows when it's time to be serious and he knows when he can be relaxed and laid back. He's very good at distinguishing between the two," Hernandez said. "At home, he's a big goofball. He'll run up to anybody who will give him attention and roll over on his back to get his tummy scratched, just like any other dog." The K-9 handler hopes that people understand the work of a police dog involves more than just handling criminals.
"A lot of people think these dogs are just vicious and they attack people, that's not the case at all. Part of his job is apprehending people, but that's a very small portion of what we do in the grand scheme of things," Hernandez said. "We locate missing kids and a bunch of different things, it's not just going after criminals all the time."