PAWing It Forward
July 27, 2020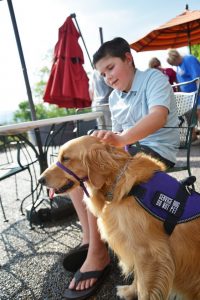 On July 9, Service Paws of Central PA held its fourth annual PAWing It FOREward golf tournament on July 9 at Park Hills Country Club.
This was a four-person scramble for all skill levels and there were prizes for each golfer (gift cards donated by 75 area businesses), as well as skill contests.
The first-place team (Tom Smith, Peggy Smith, Lew Morgan and J.T. Black) who represented Big Brothers Big Sisters, was at 12 under par.
The second-place team (Jim Berkheimer, Kevin Norton, Dan Bradley and Ben Miller), who represented Young, Oakes, Brown, & Co., P.C. was also at 12 under par.
Walt Focht won the putting contest. Courtesy Motors offered a new Ford EcoSport to the first person to get a hole in one. No one met that challenge; however, a runner-up prize was awarded to Randy Isenberg who got within three feet of the pin.
There were six skill contest winners of $25 gift cards. They went to Rick Barrickman, Jim Berkhimer, J.T. Black, Darla Dickson, Vincent Corso and Lew Morgan.
The gift basket winners were; Tim Balconi, Amy Bergstrom, Dan Bradley, Vic Gioiosa, Cody Racchini and Bob Sutton.
Doug Field won the 50-50 drawing and donated all his winnings back to Service Paws.
Silent auction winners were J.T. Black, Barbara Kooman and Heather Macharola.
Service Paws of Central PA is a local nonprofit organization established to financially assist those in need of a service dog, and/or those who may already have a service dog and need help with extraordinary veterinary expenses.
The golfers enjoyed a relaxing dinner on the patio at Park Hills, where the prizes were distributed.
The highlight of the day was presentations from three service dog handlers, which were sponsored by SPCP. Each of them had a compelling and heart warming story of how the dogs impacted their families (i.e. PTSD, anxiety attacks, peanut allergies, etc.).
A net profit of almost $10,000 was reached thanks to the help of those listed below.
Tee sponsors: A&A Insurance, AFSCME Local 31155 Unionized Employees of the Altoona Water Authority, Allegheny Orthodontics, Altoona Arthritis and Osteoporosis Center, Altoona Center for Oral/Maxillofacial Surgery, Atlas Therapy, Bassler, Erwin and Joyce, Begin With Us Child Care and Preschool, Bihary Family Dental, Blair Gastroenterology Associates, Bolger Brothers Inc. (also had team and donated prizes), Britz & Associates, CrossRoads Physical Therapy and Rehabilitation Inc., DeGol Carpet, Depiro Entertainment & Designs, Dr. Dennis C. Dobbins, Doing Better Business, Dorman's Jewelry Inc., Encompass Health Altoona, Fiore True Value Hardware, First Commonwealth Bank, Freedom Excursions (also donated a prize), Health First, The Hite Co., Hollidaysburg Animal Clinic, Hometown Bank of PA, Howard Hanna Johnston Realty, Imler's Poultry, Integrity Construction, Irwin Financial, Joyce and Erwn Bassler, Keller Engineers Inc., Ketrow Travel, Kooman & Associates (also had a team and donated prizes), Laurel Eye Clinic, M&T Bank, Marla Moon, Martin Oil Co., McCann Wealth Strategies, McCartney's Inc., McDonald's, J.P.N. Management Inc., McQuaide, Blasko, Myers-Somers Funeral Home, New Enterprise Rural Electric Co-op, Newborn Enterprises Inc., PC Works, PennCrest, Progressive Periodontal Therapy, Michael Cohen, DDS, Real Living, Lisa Fry & Associates, Reilly, Creppage & Co. Inc., Roof Works, S&T Bank (team sponsor), Season-Aire Inc., Sheetz Inc. (also gave prizes), Small Tube Products, Spherion, State Farm Insurance office of Tammy Kehr, Stevens Mortuary Inc., Stifel, Nicolaus & Co., Stuckey Ford, Sylvan Veterinary Clinic, Tel-Power Tool & Equipment Rental Inc., Tom Smith (team sponsor), True Value Roaring Spring, UPMC Altoona Foundation (team sponsor), Urban & Blattenberger, Veterinary Centers of America, Ward Transport Corp. and Young, Oakes, Brown & Co, P.C. (team sponsor).
Prize donors: The Allegro, Altoona Curve, Altoona Grand Hotel, Beerbower Jewelers, Bella Italia Pizza, Best Way Pizza No. 3, Best Way Pizza (Hollidaysburg), Bickel's Surplus Too, Boscov's, City Beverage, Comfort Suites, Courtyard by Marriott of Altoona, DeGol Family Foundation, Delgrosso's Family of Companies, Dutch Hill Chocolates, Eat 'n Park, Escape Altoona Co., Fairfield Inn & Suites, Film Center, Galactic Ice, Gardners Candies, Greenbean Coffee House, Hampton Inn, Hometown Market, Hoss's Steak & Sea House Duncansville, Irvin's On Main, It's A Tye by PeggyAnn Harrington, Jethro's, Kathy Jackson, Kathy's Homemade Creations, Knickerbocker Tavern, Lakemont Park, Made with Heart, Mane Effects, Martin's East Chestnut, Martin's Pinecroft, Meadows, Miller Chemical and Supply, Park Hills, Pizza Hut, Poochey Chef, Say It With Sweets, Shelco Seafood, Sinking Valley Country Club, Starr Hill Winery, The Summit Tennis & Athletic Club, Summit Country Club, Building II Athletic Club, Tim's American Cafe, Trade Secrets Skincare & Saltroom, Tucker Wood Creations, Urban Air Trampoline & Adventure Park, Walmart Super Center of Duncansville, Weis Market of Everett and Weis Market in the Park Hills Plaza
Other teams: The Arc of Blair County, Boyer Agency, Centre County Gazette, CNB Bank, Manpower Inc., Reliance Bank, S&T Bank, Town & Gown and Valley Rural Electric Cooperative Inc.
"A special thanks to Chad Krawczyk, Park Hills pro, Sheetz store No. 187 for providing lunch, INCO Beverage of Johnstown, Galliker Dairy Co. of Johnstown and Altoona Soft Water for being beverage sponsors and Blair Candy Co. Inc. for donating snacks," said Joe Fagnani, chairman of Service Paws of Central Pennsylvania, who said the event was a success.